Do you believe that you have an excellent idea for a digital product?  Can you see online opportunities to build products that can impact lives? Even the most well-thought-out projects aren't ready for the market without some researching and planning. At the beginning of your digital product lifecycle, you'll need to validate your vision, and that's where a product concept can help you out.
A proper definition and inspection of the product concept help you ensure that your product is on the right track. It lets you streamline your goals to build up a product that adequately provides for your customer needs.
In short, a well-defined product concept sets you up for a successful product release right from the start. After all, it's better to do things right from the beginning than regret them later.
To help you understand the product concept, we dive into how it's defined, the role it plays in your product strategy, and how starting with a product concept can help your product's success.
What is a Product Concept?
Product concept deals with the product's quality, characteristics, and performance. In theory, the product concept says consumers prefer quality over quantity. How many times have you bought any product without knowing what it offers? From a brand new car to a new type of bread at the grocery store, you likely looked at the features, benefits, and how it fits into your life before you buy it.
The same is the case with digital products. The consumer prefers to know about its performance and quality before buying it. The product concept states that consumers favor products with higher quality, superior characteristics, and high performance. A solid product concept gives identity to your product. It allows you to improve your product continuously at a lower cost. The main objective of the product concept is to deliver a high-quality product that would fulfill the requirements and demands of customers.
Why is Product Concept Important?
The product concept is one of the fundamental steps of product strategy. Without it, you maximize the risk of putting all your resources into a product that may have no future.
To understand a little better, here are the primary reasons that make product concept a must for digital products:
● Favors Quality rather than Quantity
The best part about the product concept is that it prefers quality over quantity. Most consumers will choose the product with the highest quality. The businesses that adapt the product concept strategy aim to develop a high-quality product with distinctive features while keeping their target consumers top of mind.
Moreover, such products offer more benefits to the consumer that they even improve over time. The product concept allows companies to care about their customer requirements in a better way.
● Creates Opportunity to earn better Profits
This has to be the most significant benefit of using the product concept strategy. It allows companies to charge a significantly higher price as compared to their competitors in the market.
Think about businesses like 'Apple' and 'Gucci.' They are among the top names in their respective industries, even though their products are much more expensive than their competitors.
This is because they follow the philosophy of the product concept. Apple and Gucci have spent time and money discovering what their target market will buy and have created products with quality at the forefront. The product concept showed them what customers wanted–and the customers were more than happy to pay for it.
With a product concept in place, companies create a high-quality product that offers unique features compared to other available products on the market. As a result, they can earn higher margins.
● Helps Develop Curiosity
Using the product concept philosophy in your marketing strategy helps you create a buzz about your digital product. Whenever a company delivers a new product to the market, customers become curious. If product concepts are done right, curiosity will lead to sales.
Customers are encouraged to buy the product and check the new features out to satisfy their curiosity. Moreover, it boosts brand recognition as it comes into the spotlight due to its new product.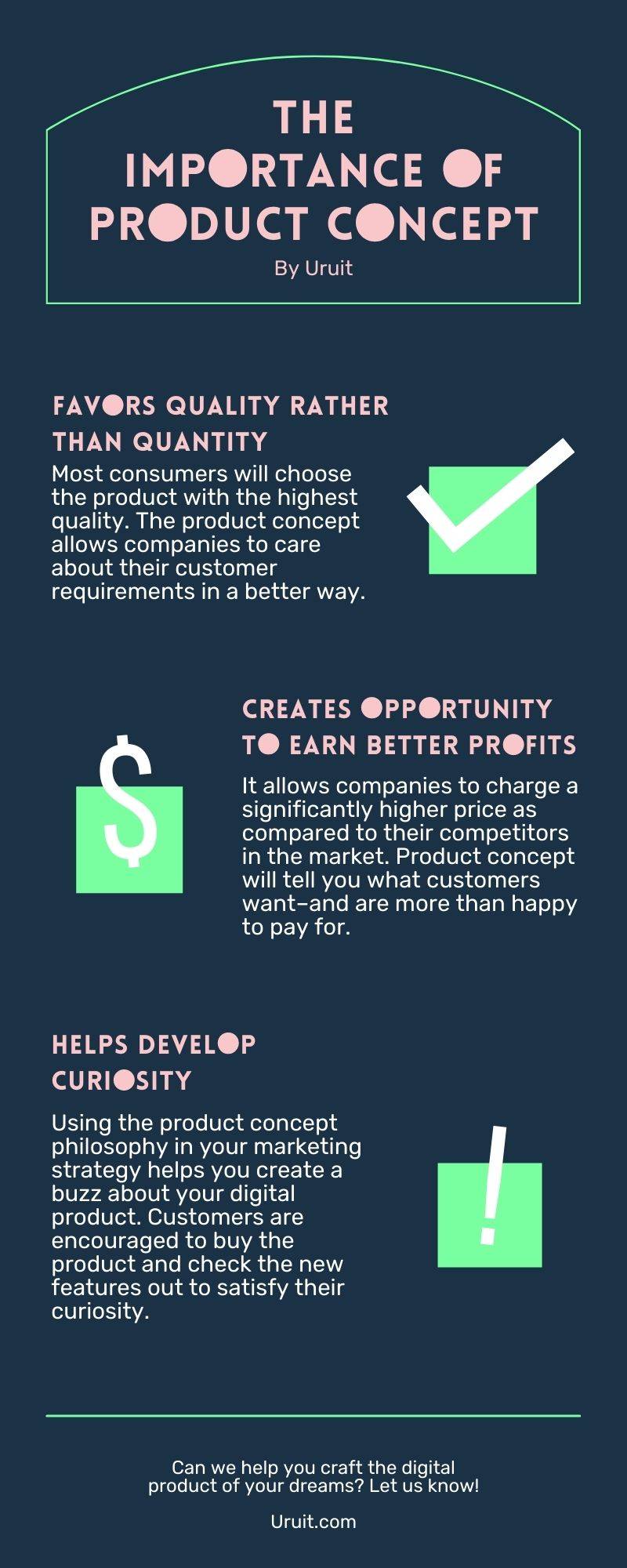 How to Define Product Concept?
The product concept is defined in a detailed document called the product concept statement. It needs to tell every reader about your vision for your product and clearly define the value the product brings to your customer and business. The product concept must be defined so that all your team members or investors can understand it at a high level.
When you are defining your product concept, make sure to give a clear outline of your idea. You should also elaborate on your target audience, their needs, and the problem that your product will be handling. The product concept must clearly define all the business goals that you aim to achieve with this particular product.
There are many ways to approach product concept projects, but one of the best is to use a product vision board as it can easily and quickly help you create, define, and manage your product vision efficiently.
In a nutshell, the product concept should communicate the idea and objectives behind your digital product in the best way possible. Plus, you should also know that the product concept is not a one-and-done project– it is something that keeps evolving during the entire lifecycle of product development. So, make sure that you keep revisiting your product statement to adjust it as needed.
To help you more, we have rounded up a list of the essentials that must be included in your digital product concept:
The name of your digital product
Your target users
How the product will be used
The customer problems that your product solves
The business goals you aim to accomplish with this product
The product characteristics
Its unique selling points
Your vision for the user experience and usability
Include as much specific information as possible in your product concept to support you throughout your project's development.
A few tips on defining the Product Concept
1. Identify Market demands and product requirements.
No matter how innovative or high-quality your digital product is, if it is not solving your customer's problems, they won't purchase it. To have a successful product concept, define the market and determine your target audience's issues.
When you are aware of the problem, you can define the product requirements. This will ultimately help you in designing a 'hit' product.
2. Perceive the product from the customers' point of view
When defining the product concept, make sure to do it from your customers' perspective. See your product through your consumers' eyes. It will help you assess and evaluate how valuable and functional your product truly is.
Explain how this product will take its place in your customer's life and why they choose your product over your competitor's. When you know what your customers expect from you, you cannot go wrong!
3. Use language that's understandable by the consumer.
Keep it simple! Use consumer-friendly language and stay away from jargon you may use with internal stakeholders. Remember that if your customer does not understand you, they will not be comfortable paying you. So, make sure to use language appropriate to your audience. Explain the benefits of your product, talk about its features, and explain how it fulfills the customers' needs.
4. Avoid irrelevant and unrealistic product features.
When defining the product concept, many companies tend to go overboard. To appear different and better than their competitors, many companies offer features of no use to their customers. Such product characteristics add no functional value to your product. Consequently, including them in the product concept does not encourage your customers to purchase your product. Instead, they get confused.
The Takeaway
Developing a well-researched product concept can help you take your digital product to the next level. It also enables you to understand your consumer needs in a much deeper way.
Imagine what happens when you balance the features of your product, so they align with the needs and demands of your customers. You increase your sales! Think of it as the foundation on top of which you start building your product. A strong foundation is critical for a long-lasting building. Make sure to spend adequate time, effort, and resources to define a quality product concept before proceeding with the actual product development.
With an adequately vetted product concept, you can deliver for your customer needs, increase your profit margins, and achieve your business goals.
At Uruit, we aim to help clients create digital products that win. Consult with our digital product development experts today. Our specialists will help bring your ideas to life in the best way possible.