Why software developers should get involved in communities like meetups in order to enhance their soft skills
Being part of a software company these days shouldn't be seen as just a job. It's rather an experience that adds value to what we do as professionals and to who we are as people. As a psychologist with eight years of experience, it's the first time that I've found an industry in which sharing knowledge is not only a hobby. It's also part of each individual's technical and personal development, regardless of their role and seniority.
The interesting thing here is the importance of everyone having knowledge at their fingertips has expanded outside of the corporate world, fostering the birth of communities in which we talk not only about technical aspects of software and development, but even other human qualities like soft skills, which are the personal attributes, personality traits, inherent social cues, and communication abilities needed for success on the job. A clear example of this is the popularity of the well-known Meetup platform. In this post, we'll show why software developers should participate in communities like meetups in order to enhance their soft skills.
Why are these communities important and why participate in them?
As my colleague Linda stated in a previous post for UruIT, participating in communities provides great value for developers since they allow you to learn technical skills from (mostly) free talks, network, and even develop communication and leadership skills. Without a doubt, it's quite motivating to find a group of people who meet up regularly to share information and talk about their common interests.
Medellín is not only the city of eternal spring, but it could also be considered the city of meetups. There are many communities that address all kinds of topics: photography, design, software development, art, among others. Focusing on the software industry in the city, local developers find endless free spaces where they can test what they know, either by expanding their knowledge of a specific framework, solving technical questions or simply listening to others about how they solve problems in their own projects.
What happens when the meetup goes beyond those technical skills?
Increasingly, companies seek to engage people with the necessary soft skills. That's necessary to face the sudden changes of the software industry in a creative way. Self-management, leadership, collaboration, decision-making, the ability to give feedback effectively, among others. These are all examples of the skills that small, medium and large companies are now looking for. These are generally skills that aren't taught in school, but rather they're acquired while working from hands-on experience.
That's why I co-founded the Dmente community, a space led by psychologists, directed towards the software industry. It seeks to help people strengthen those soft skills regardless of their experience level. This new meetup group was inspired by my experience conducting interviews with candidates—mostly software developers. In those interviews, I began to notice how they spent much of their free time strengthening their technical knowledge. However, most of them neglected to work on the soft skills. These abilities would allow them to better work with clients and teams in the future.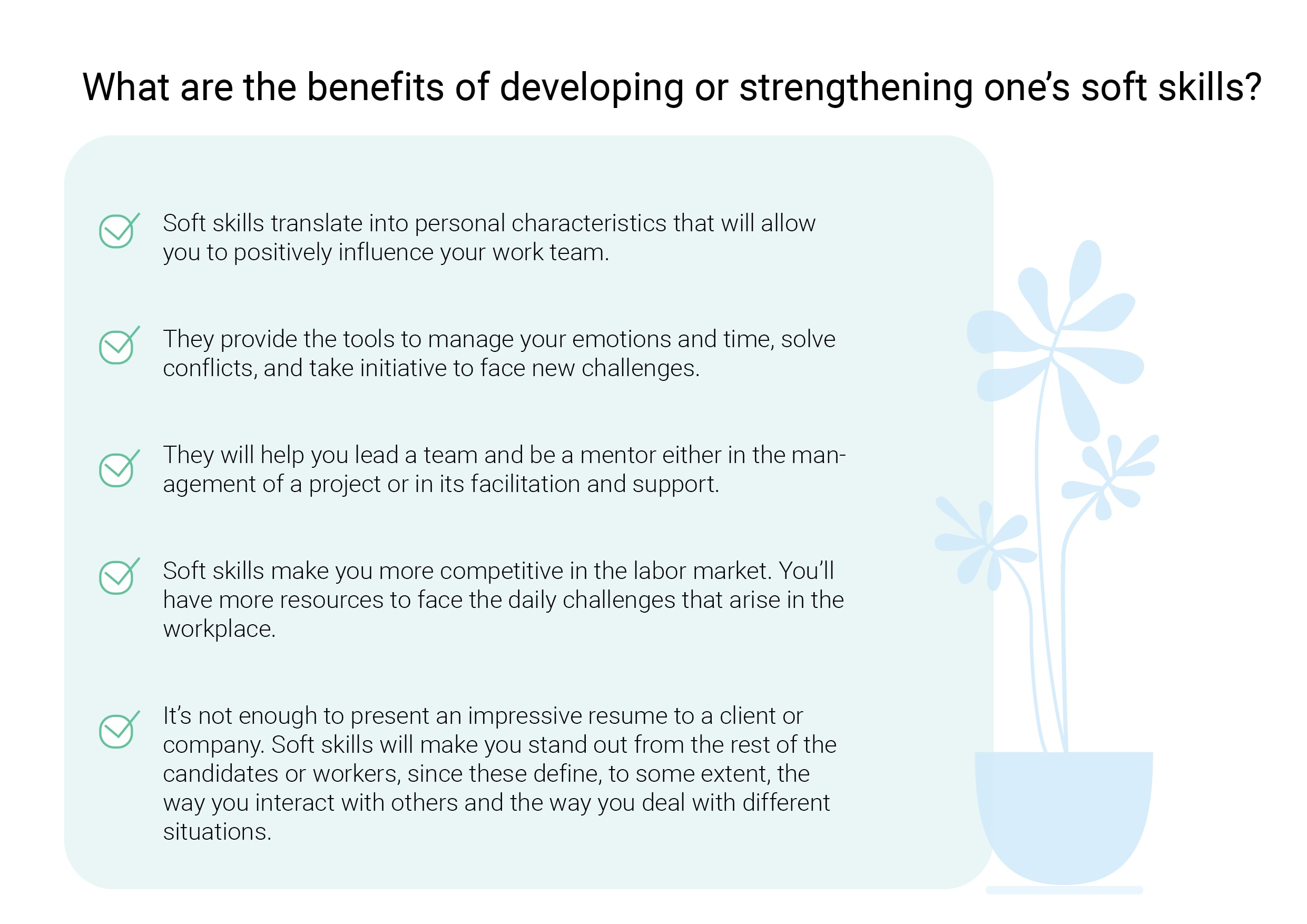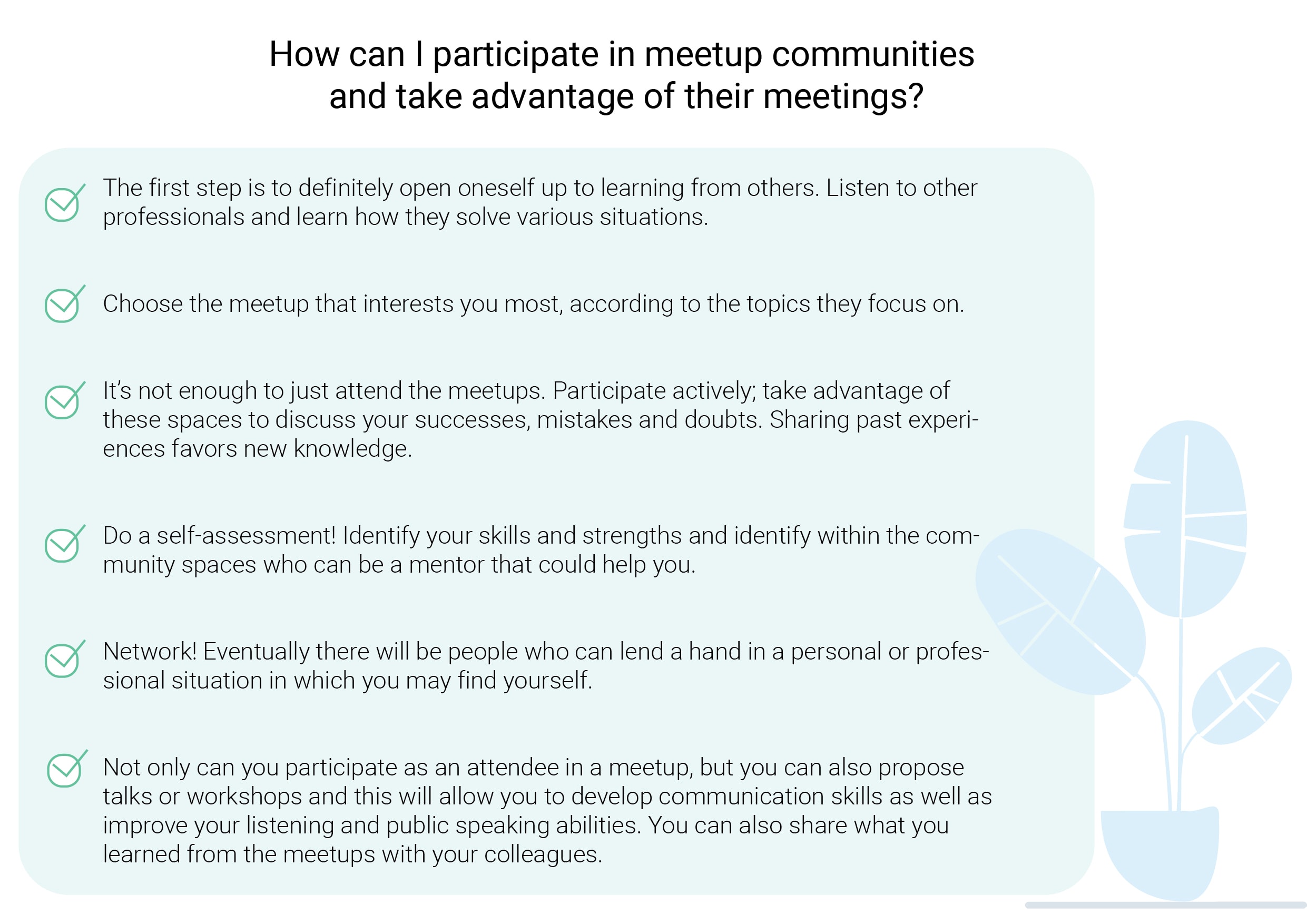 The development of soft skills is—in the end—a personal job
It involves self-assessment. However, it also implies including other people that will help you to acknowledge personal aspects of which you were not aware. The important thing is to find a balance between soft skills and hard skills. Therefore, take advantage of communities to generate technical discussions, but also talk about leadership, conflict resolution, communication problems and so forth. This will allow you to have a different perspective of various situations and will give you more to work with when taking actions and making decisions. 
 My experience with the Dmente Community
Dmente was born in February 2019 as a proposal by the UruIT recruitment team. Our goal was to promote and enhance professionals' soft skills in Medellín. After carrying out different recruitment processes throughout my career, I realized that a large part of the candidates focus on consolidating their technical knowledge, leaving aside soft skills or giving them less relevance. This year, we've given approximately 20 talks and workshops on topics such as:
"Develop your personal brand"

"How to be a leader in the software industry?"

"What is and how to become a scrum master?"

"How to introduce yourself in a job interview in the IT sector?"

"Create your LinkedIn profile and be a more competitive professional", among others. 
In approximately eight months, our meetup page reached over 500 subscribers. Moreover, we have been contacted by organizations such as the Medellín City Hall, Ruta N, Code Your Future, Makaia and other communities such as Women Who Code and Data Science Fem with the purpose of training and sharing on the topic of soft skills and generating an impact on the ever-growing local tech industry.
 

Why do people attend Dmente?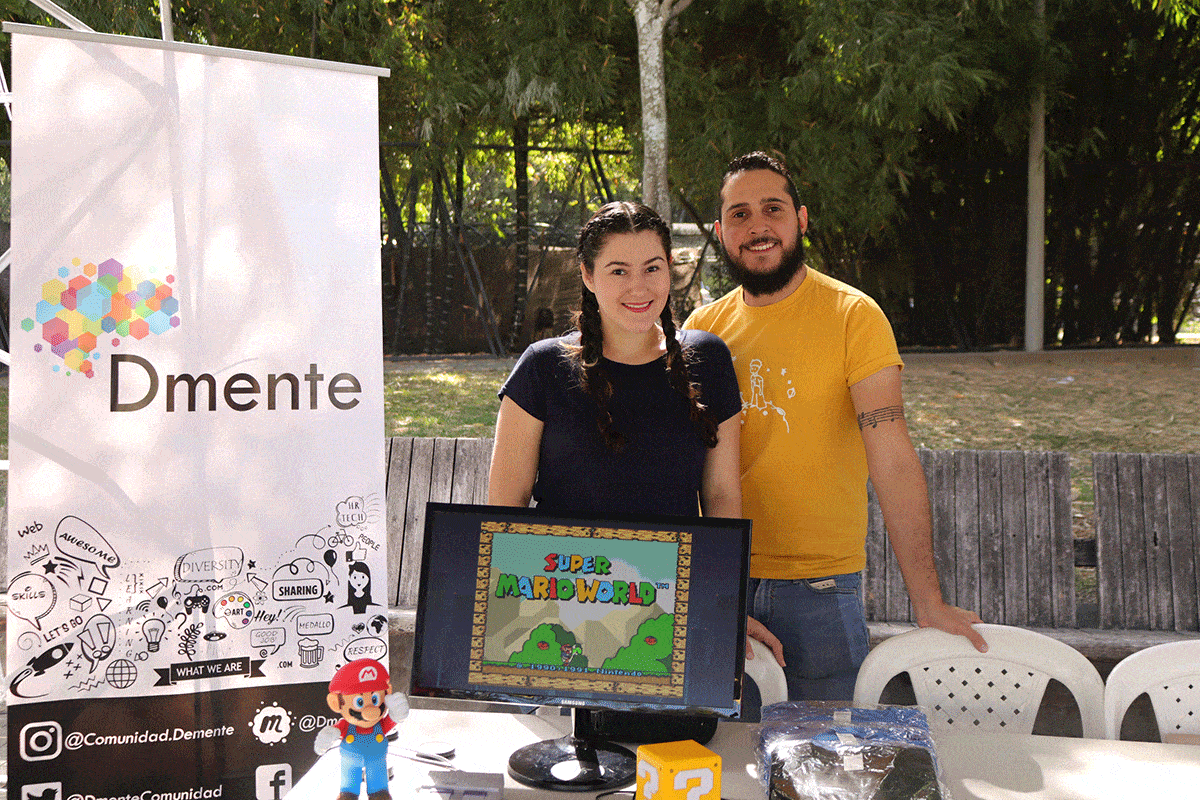 The feedback has generally been positive. Both attendees and fellow organizations see Dmente as a new transversal proposal to all sectors and work industries. Our participants value the philosophy of our community: fostering diversity at work and training new leaders capable of creatively facing the challenges of our century.
All our events are free and based on the LinkedIn study that digs into the soft skills most demanded by companies in 2019 and proposes how to develop them. Recently, state institutions and local foundations contacted us, referred by developers who have attended our meetups. Therefore, we have created alliances that have allowed us to further attract more attendees. Thus, it's clear from the work that Dmente has done that both developers and institutions and even business leaders are increasingly valuing the development of soft skills, since they're the ones that finally determine personal and professional success.
Would you like to keep evolving your software development skills? Take a look at our Blog! We're always publishing posts on different subjects with the goal of helping our tech community from our experience. Also, if you're around Medellín you can attend the next Dmente meetup!