Two South American software development centers, two amazing cultures, thousands of questions
For two years I've worked for UruIT and it's been an interesting journey learning more about the South America software development world. One of the perks of this experience is having the opportunity to learn more about other cultures. From our offices in Colombia and Uruguay in Latin America we provide services primarily to US startups and corporations. Quite a mix, right? To add to this cultural diversity, I'm from yet another country, Brazil.
It's been almost five years since I moved to Montevideo, and recently a teammate and I had the chance to visit UruIT's other office in Medellín. In both of our centers we speak the same language (Spanish, but with different accents), work basically the same hours (Colombia and Uruguay are in close time zones) and we share other lifestyle and cultural traits. However, about 4,000 miles separate Uruguay and Colombia. The distance and their different histories allow each one to have unique characteristics as well as some similarities.
In this post, I'd like to share some of the cultural features that have struck me the most from both countries. Also, I'll tell you some of the aspects that our US clients have found the most interesting about them.
Having a meal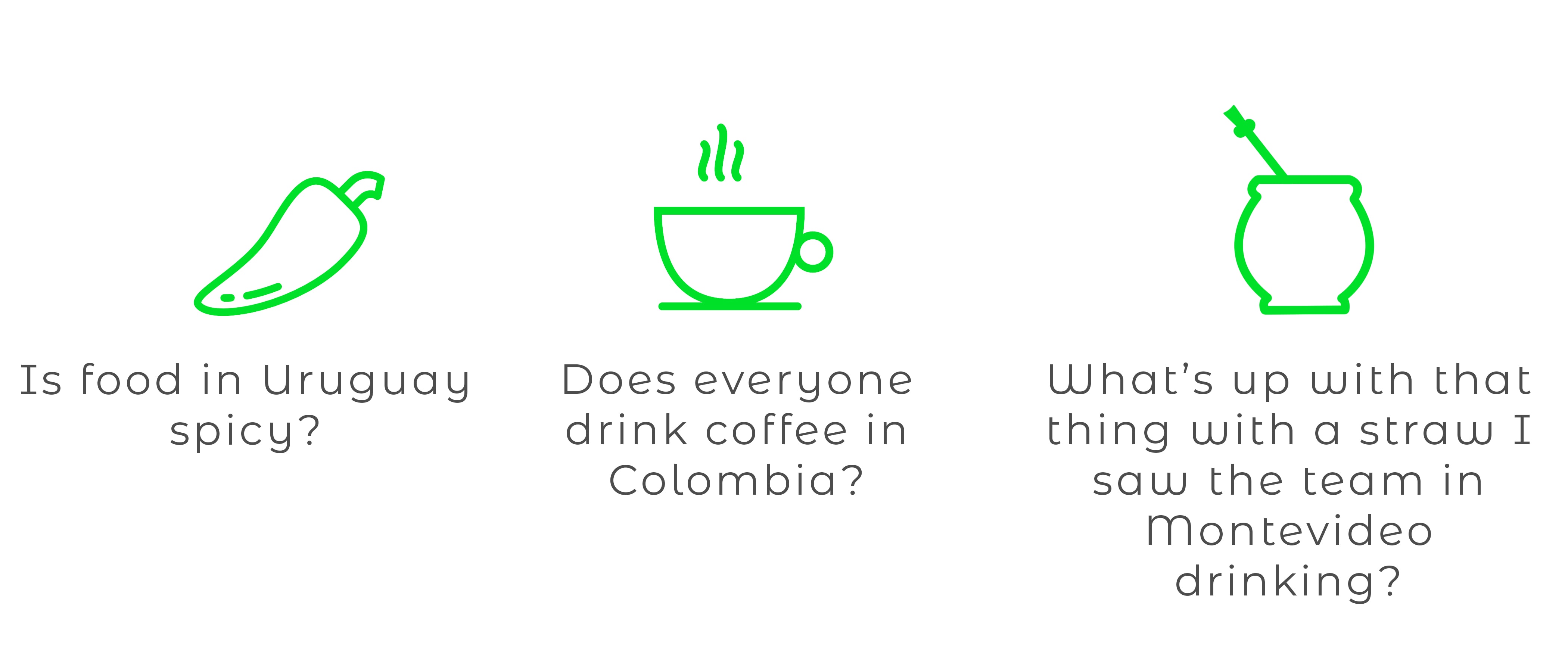 One of the main things people wonder about a new culture is food. In my experience, the foods in Uruguay and Colombia are delicious in their own specific ways. Uruguay is particularly known for its barbecue, as meat is one of its main exports. There are around four cows for each person living in this country of 3.5 million people! One time, a developer from UruIT visited a client's headquarters in Michigan and grilled for the US team an Uruguayan barbecue known as asado. It consists of different kinds of premium meat, flavored with salt and cooked slowly over a woodfire. Another traditional dish is chivito, a sandwich based on a great cut of meat, bacon, french fries, and other delicious ingredients. As for produce, fruits and vegetables are seasonal here, so you won't find a great variety year-round.
In Colombia, the plate is usually more colorful with a mix of different kinds of grains, vegetables, meats, and other delicacies. The bandeja paisa, a typical dish from Medellín, has at least five different components, from beans to avocado. Because of its temperate climate, Medellín has a huge variety of fruits and vegetables all year long. Food there is prepared with many more spices than in Uruguay. Another fun fact: Medellín is a cosmopolitan metropolis with a population of 2.5 million people. Therefore, it's also very common to find international restaurants and try out different types of cuisine: Indian, Japanese, Peruvian, Arabic, Chinese and much more.
Both countries have a dessert that is almost identical (although people may judge me a little for saying so :D). In Uruguay we call it dulce de leche and in Colombia it's arequipe. Both are a very sweet caramel made with milk instead of water. Like a spread, you can use it to dip cookies, fill pastries and cakes, or just enjoy on toast.
What about a drink?
Talking beverages, Colombia is famous for its coffee. Colombia's expansive coffee region is a common destination for tourists. In Uruguay we do appreciate a good coffee, but there's another beverage that could be described as the number #1 choice of Uruguayans: mate. It's an herbal beverage, something similar to tea, but with a unique, bitter flavor that is drank out of a gourd with a metal straw. What Uruguayans love about mate is that it connects people—that's my favorite thing about it. You can drink mate alone, of course, but it's also very common to see people sharing it in informal or professional gatherings.
Climate and geography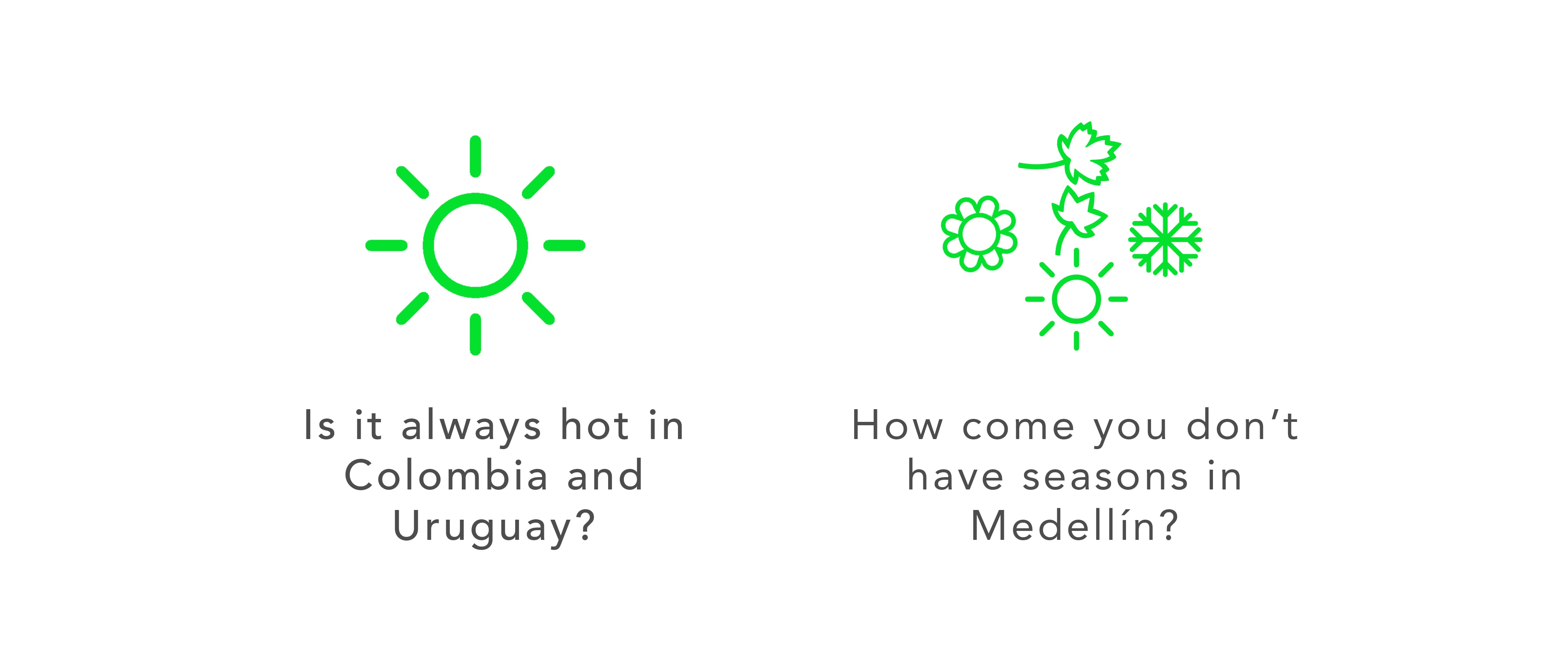 Although we're talking about two Latin American countries, don't get me wrong: not every single day is hot and sunny in Colombia and Uruguay! Montevideo is at the southern end of the continent and the climate here varies according to the season. Meaning that winter can be tough with dark and freezing days, while the summertime is hot and humid with long, sunny days. Uruguay is located in a flat, plain region with its highest elevation being 1600 feet above sea level.
In Medellín, there are no seasons and the temperate climate is pretty much the same all year long, with some variations in July (when it's usually hotter) and October (colder). However, the weather varies often. In the same morning you can leave for work under a beautiful blue sky, which will become cloudy and rainy just when you're arriving at the office. A couple of hours later, as you leave for lunch, you may find that it has shifted back to being sunny – true story! Colombians recommend always having an umbrella, just in case. The altitude in Medellín is also very different since the whole city is at 5,000 feet above sea level.
Planning for holidays and leisure time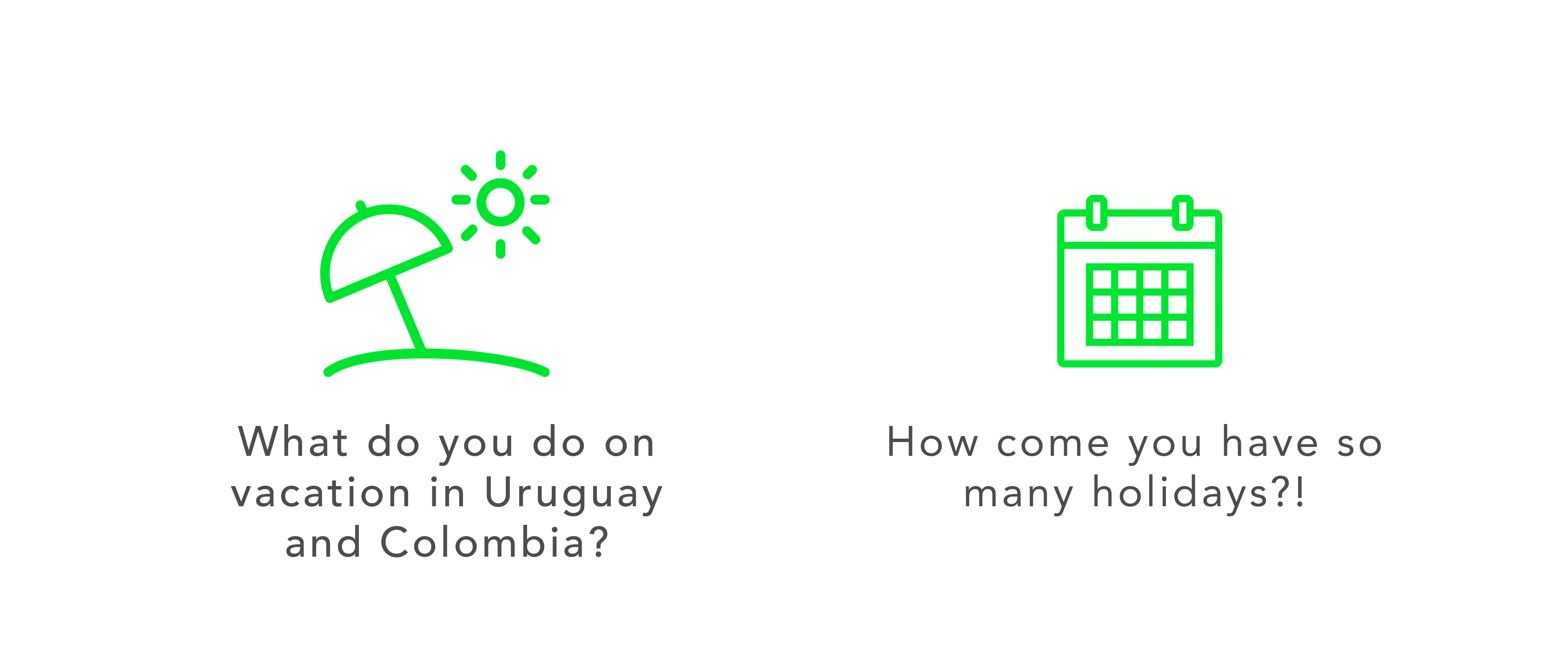 Our US clients are often surprised by the amount of national holidays Colombia has. Even those of us who live in Uruguay get shocked as well! Once, one of our Colombian developers had to spend some time explaining to his US peers why they celebrate three Independence Days! Anyways, both of these countries have beautiful sights, great places to visit and offer an amazing time. I've had the opportunity to see some of their beauties myself.
In Montevideo, it's common for people to go to parks or the rambla. It's a boardwalk along the La Plata river, a great place if you want to spend time with friends or play sports. You can also have a great time tasting craft beer in the various pubs around the city. There's also a thriving cultural scene, with lots of museums, coffee shops, and gatherings to attend. If you prefer to stay at home to have a barbecue with friends or go to any of the beaches along the northern part of the coast, that's a great idea as well!
Medellín is a bit more of a dynamic city and you can always have a nice dinner in one of its thousands of shopping malls or enjoy salsa music and other beats in the flashy Lleras neighborhood, known for its nightlife. Parks, museums, bars, and cultural events are great options as well. On the weekends, you can go to the outskirts of Medellín for a day trip to awesome sights like Guatapé and Peñol, escaping the city's hustle and bustle.
Traditional holidays
Regarding traditional holidays, our clients have asked us if we celebrate typical US festivities such as Halloween. This one isn't a very traditional celebration in Uruguay and Colombia, although we've seen an increase in the number of children going around the neighborhoods for some trick-or-treating in Montevideo. However, Uruguay is mostly known for its Carnival, which happens in February and it's the longest carnival season in the whole world! Christmas is also a big deal and for those that enjoy this time of the year, Medellín is famous for its alumbrados, a decoration of lights that takes up part of the city at the end of November and December.
South America software development industry and UruIT's culture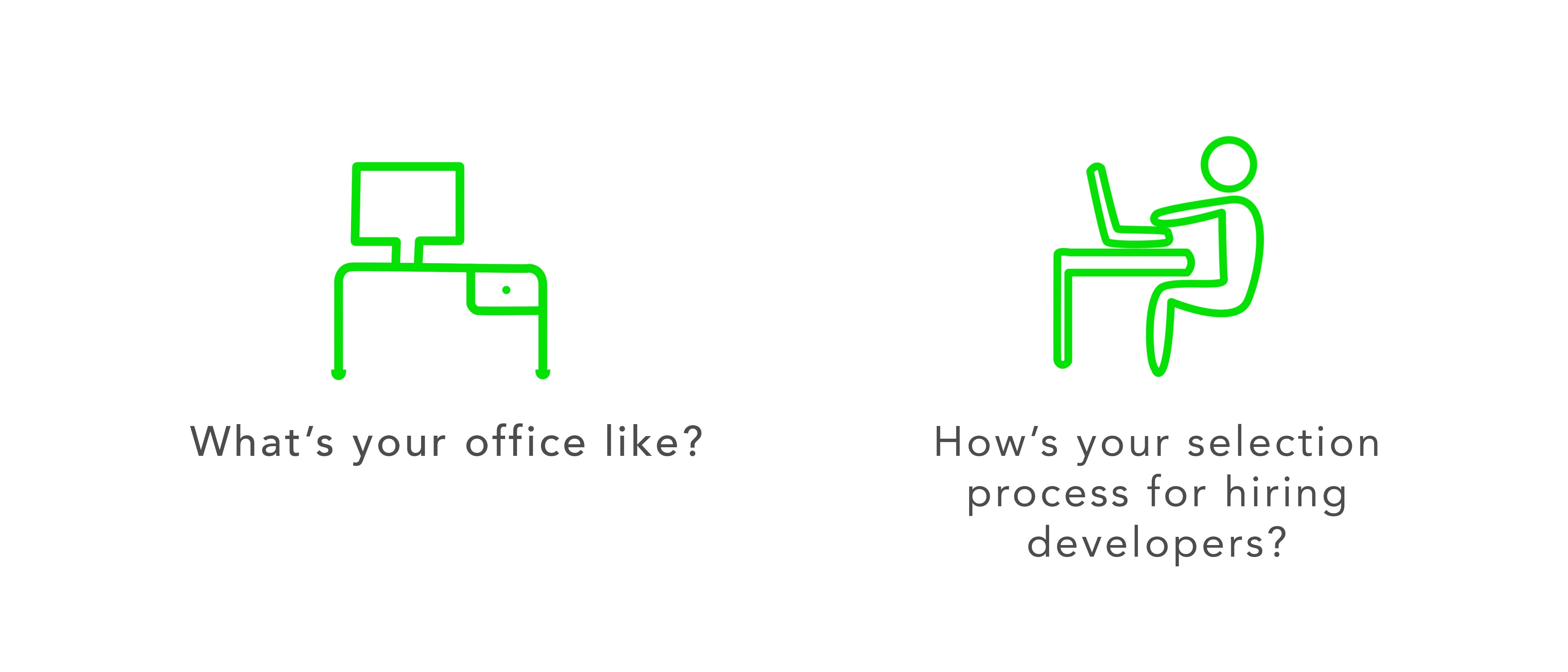 If you focus on the IT industry, you'll see booming realities in both countries. Uruguay is one of the top software exporters in the region, with several government investments and initiatives aimed towards this front. On the other hand, Medellín has been awarded the Most Innovative City in the World and offers several strategic advantages for startups and entrepreneurs who are willing to create new products.
UruIT was founded by Uruguayans back in 2007. Today, I share an office with around 50 people. Almost everyone who works here is from Uruguay, except for some foreigners like myself. The expansion to Colombia happened in 2015. It started led by a modest team that initiated operations and has since grown over the years. Today there are more than 20 people working there and they've just moved into a new, beautiful, and larger office this year.
The software development industry
Our clients come up with a lot of questions regarding the nearshore outsourcing industry in Uruguay and Colombia. Their goal is to understand if these locations are what they are looking for with their projects. For us, it's important to share with them our company culture, our selection process for hiring developers and the work methodologies we rely on. We strive to bring more clarity regarding what it means to work with a South American nearshore company.
At the beginning of our engagements, we commonly hold onboarding processes and Discovery sessions in which the team gets to know each other, define the best approach for working together and sets its communication channels. Exchanging different points of view is amazing, and people get creative over here! Once, one of our developers from Colombia even walked around the office with her computer's camera on, to show to her teammates in the US how was the place she worked in.
Learning more about Uruguay & Colombia
You can find a lot of information about Uruguay and Colombia in this blog or across the internet in general. However, having a real experience being in these countries will always be the best way to truly understand their culture. That's why at UruIT, we foster traveling opportunities as a great tool for connecting people. While our development teams sometimes travel to the clients' headquarters in the US or receive them in Montevideo or Medellin, we also have internal initiatives so that UruITers can travel between offices. That's how, little by little, we become more familiar with each others' reality, increasing our cultural diversity and understanding of what it means to be a nearshore outsourcing company from Colombia and Uruguay.