UruIT has been announced as one of the top mobile app development companies in Uruguay by Top App Development Companies
UruIT is an award-winning software development company, that creates applications with a strong focus on user experience. Since our early days back in 2007, we have partnered with renowned companies within the industry, for whom we have delivered high-quality work. We get involved at any stage of the development process, both helping clients turn raw ideas into successful products, or bringing talent to help them ramp up their already existing teams faster.
Regardless of the engagement type, in every new project we take on, we foster collaborative communication between our teams, while trying to innovate in the way we approach each project we take on. This, plus our developers' focused approach makes a huge difference when it comes to quality & fast delivery.
Being mobile app development one of our core services, we are honoured to have been recognized as a top app development company and recently we got listed as one of the top app development companies in Uruguay by Top App Development Companies, which is an international platform that encourages companies from around the world to participate in their performance and reviews analysis. It collects companies' data through unique techniques and shares it through their portal in very genuine and reliable lists.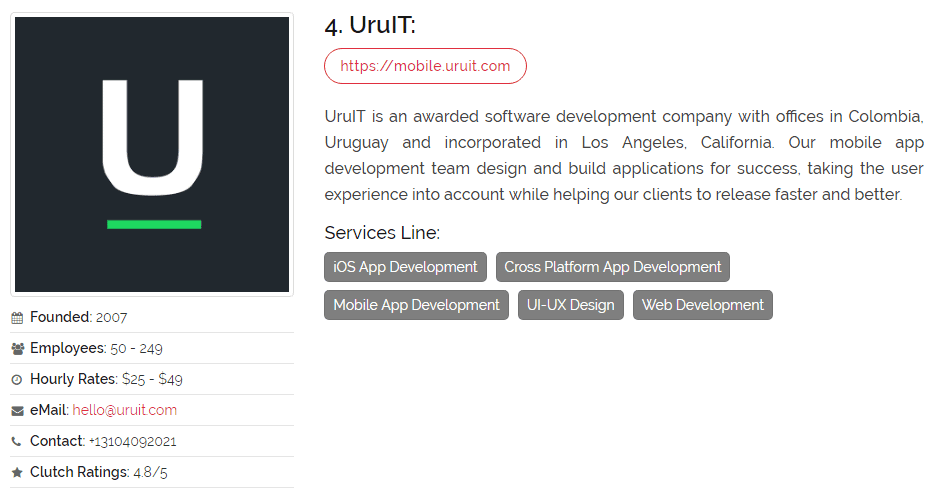 About TopAppDevelopmentCompanies.com:
Top App Development Companies is an online platform that highlights top app development service providers around the world to assist people who are willing to invest in best app developers in their nearby area or in any country across the globe. The purpose is to find the right company for buyers' right requirements. For buyers, it's easier to compare costs and timeframe amongst companies and choose the most suitable app development company. Their goal is to help buyers to develop their apps at a quite competitive price and high quality.