Going for a web design illustration approach in our new website
If you have been wandering around our website recently, you may have realized that uruit.com has a new look & feel, quite different from our prior online esthetics. A few months ago, we released the redesign as a part of our marketing team's plan to update the brand according to how our team, clients, and partners perceive UruIT. During this refresh, one of the main decisions we made was to switch from photography to web design illustration because we believe it's better for communicating what we do and the benefits of working with us. 
Nowadays, using illustrations is a UI trend that several companies are turning to. In our case, one of our designers, Tatiana Mesa, is the illustrator who helped us to ideate and plan how to focus on drawing as a channel for better representing the business. With her help, we've put together a list of the benefits we see in going for web design illustrations – check them out!
An original outlook
We're still big fans of photography! However, we feel that using illustrations brought a more original touch to our website. Alsto, it expanded our communication possibilities. While analyzing how similar companies to UruIT are communicating online, we realized that a lot of our competitors looked exactly the same. One of the reasons for that is the huge amount of stock pictures available that are commonly used over and over. 
At least in the software development industry, we felt that expressing what we do in the form of illustrations gave us an advantage over similar companies. They provided us with more flexibility. We've all seen pictures of developers working on their laptops on every software development agency's website. What could we do to differentiate ourselves? Illustrations are custom and can show a unique perspective of our brand. They allow us to combine our message, our people, and our service in a one-of-a-kind way.
Reflecting our core
It's proven that images can transmit more information in less time. While text is read in a linear way, when we look at an image, we receive all the information at the same time. That explains why images play a bigger role than on-page text when we want users to spend more time browsing our webpage. Our website is the face of our company. Therefore, in order to guarantee visitors will stick around, we believe it should reflect our core message in an honest and attractive way. 
Of course, a company that shows photos of its actual employees and facilities is giving a lot of valuable information to users as well. That's the main reason why we decided to mix it up and use both photos and illustrations. In fact, in the next few releases, we plan to add more pictures. This is the plan especially on the team section, so visitors can feel closer to our team members and learn more about them.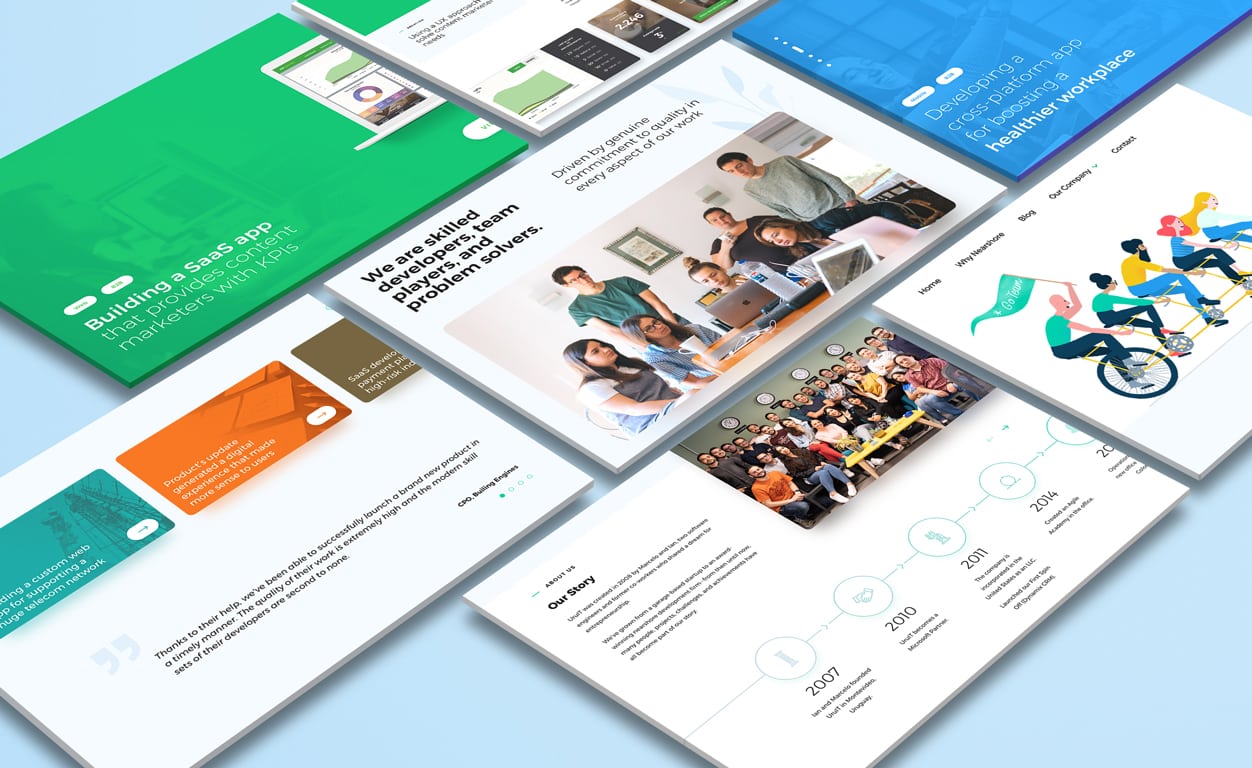 Building a Minimal Lovable Product
Illustrations mix marketing and art. They gave us license to represent our company in a fun way. According to the feedback we received so far from employees and clients, they've attracted a lot of attention. We can't wait to take the next step and start animating our illustrations – according to the web design agency, Overit, the interaction they generate is impressive!
"We've found the combination of illustrated imagery and motion entices customers to stay on a website and dig deeper into what you have to offer. And, of course, blow their socks off with that interactive infographic, map or character and they may even send the link to their buddies," says Mike Hayes in an article he wrote for Overit.
We like to see our website as a Minimal Lovable Product. This new concept states that a product will survive and thrive only if it can empathize with its users and generate engagement. To do so, it's important to offer great functionalities that also appeal visually. That was an important requirement for us when building the new website. We comebined it with a strong focus on performance and technical aspects while also targeting the visual side. Our goal was to connect our illustrations with the company's personality. Therefore, we could present our characteristics as a business in a more engaging way.
A fun way to help increase conversions
According to Behance's statistics, custom made illustrations can convert 7x better than any stock photography. In their report for 2019 Design Trends, they featured examples of illustrations that allowed companies from various industries to stand out in a vibrant, bold, and unique way, without loosing their brands' tone and communication style. Among the techniques they named, animations, gradients, asymmetry, and others. These are some of the creative approaches designers are taking to work with illustrations:
"From landing pages, to entire websites, custom made illustrations are taking the web design industry by storm," writes Behance.
Breaking barriers with web design illustration
When redesigning uruit.com, we wanted to communicate abstract concepts. For instance, how could we explain "nearshore outsourcing" and its benefits with less words and more visuals? By using metaphors, we broke the barrier of reality. We created our own universe of illustrations that could transmit abstract concepts and our vision about them. 
Huge players in the tech industry are relying on web design illustration to improve their interaction with users. Airbnb, Mailchimp, LinkedIn and others are showcasing their business purpose through the work of designers and artists that communicate emotions and brand values with singularity and creativity.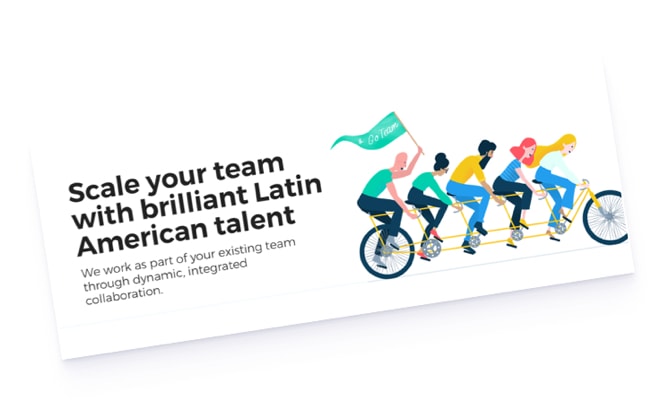 Digital illustrations combine quality and creativity
According to the website, Awwwards, "digital illustration has evolved imitating traditional drawing and painting techniques and replicating its mediums and materials like collage or different shading, passing through many stages between the figurative and the abstract." Along with the artistic purpose that lies in any illustration, it can also be seen as a tool. It helps products stand out from the crowd. 
By relying on high-quality digital tools such as the ones from the Adobe package, designers can create hand-drawn flat illustrations. These are more connected with craftsmanship and with an air of hand-made design, or even three-dimensional ones. They are more modern and real, since they mix the boundaries between the digital and physical worlds. Illustrations are now part of hero sections, descriptions, icons, footers, and other parts of websites and applications. Together with the communication voice and tone, illustrations are now part of our brand personality.
What about you? Planning to start using illustrations in your app? Contact us if you'd like some tips from our UI designers 😉