Digital Product Conversations Amanda Kees from Givinga
Amanda Kees is originally from New Jersey and moved to Florida after completing her Bachelor's degree in 2010. She started working with Disney that same year and worked as a Product Manager with a specific focus on Cast Support & Services. She concluded her decade long career with Disney earlier this year after accepting a position as a Product Associate at Givinga. She holds a Master of Business Administration from Washington State University. In this interview, she shared her interesting insights about changing roles, building a product team, and much more.
How did you become a Product Manager?
Well, it's not your typical story. I had been working for Disney for about eight or nine years in their parks and resorts, climbing up the ranks into leadership roles in the theme parks. I was looking for a new challenge and decided to go back to school and get an MBA. To be honest, I felt a little bored with leadership. I know that's a strong word, but I just felt like I wasn't being challenged anymore. I had mastered the skills required at the time and was seeking something new.
I decided to interview for a position working on apps for our employees. Disney calls their employees 'cast members.' It was perfect because I was previously an hourly cast member and I had leadership experience. It was also a risk because I was totally new to technology. I was lucky enough to get that position and I really flourished. I possessed the experience that was lacking on the team and filled a void. We had a really talented team, but nobody really understood the user experience and I was that voice. The team was full of technologists by trade either working for Disney or contracted. They didn't have that 'in the park experience' that I had and so they didn't really fully understand the user. This was the value that I brought to the team and that my director saw which is why he hired me.
It was definitely a learning curve. I had to learn how to be a BA and what a product owner even was and go from there. I was on that team for nearly four years. We actually just launched an app in the app store that I am proud to say I played a pivotal role in. I don't think the app would have been built without our team really pushing for it and being passionate about bringing the employee experience to the next level, essentially joining the 21st century with a mobile app for our employees. That launched very recently and it was somewhat bittersweet because I'm no longer on the team, but I was celebrating from afar. 
What products are you responsible for?
At Disney, I was focused on our employee intranet, the website where employees would log in, check their schedule, review their benefits, access their complimentary tickets, all of that good stuff, some of it very unique to the Disney employee experience. That was kind of my baby. We rewrote the web app which was about 20 years old and relaunched a new, more modern version in 2018.
I was managing enhancements, and the product lifecycle once it was live and we did the cutover from the old version. And then we really started focusing on user research for the mobile app, figuring out what we should build, what the priorities should be, how we wanted to build it. We did so much research. There were many hours of user interviews and executive pitches to get the funding, and then we got the funding and started to build it. 
Earlier this year, I made the tough choice to transition to a new company. Now I work for a kind of FinTech company, but we're focused on charitable giving. We call our product PhilanTech, philanthropy technology. We're focused on making it easier for people to give charitably, providing transparency to see where your money goes and avoiding the crazy fees you might experience with another provider. We're very much still a startup, in that startup mode of learning about the market and trying to land those key accounts. I'm the first product hire, which was intimidating, but also really exciting. 
What do you think makes your product and the overall experience so special?
At Disney, I was focused entirely on internal products, so things that only employees would access and use. This is different from most technology teams at Disney, because as you can imagine, we're very consumer based. There are the parks, hotels, cruise lines, movies and Disney+. Our team was unique in that we didn't really focus on any of those areas but instead focused on things that would make employee's jobs easier so that they could then serve all of our guests in various experiences. 
At Givinga I get to grow the department and the function of the company from the ground up. It's exciting. It's also a little nerve wracking but it was exactly the new challenge I was looking for. 
What do you like about building your own team? 
I've started to really think about that recently. I've really been focused on familiarizing myself with what our product offerings are, where the roadmap needs to go and learning all of those things. Now that I've gotten into a rhythm with the dev team, I feel like I'm ahead of development and design and can take a step back and think about where we need to go next. What does the next product hire look like? How do I want the team to be structured? What does that look like?
I'm hoping to make my first hire in Q1, maybe Q2, of 2022. I want to apply things from my experience, some structure is a good thing, but some of that 'corporate-ness' just won't work in a startup. In my previous team I didn't have any formal leadership on the tech team, no direct reports. I did have that sense of ownership as a product manager guiding the team, and I think I was influential, but I didn't have any direct reports or a team I built. So that will be new and it's exciting. 
What communities or events, resources or courses would you recommend?
There are a couple that come to mind. One is Product School. And the other is Product Collective, they recently hosted Product Con. Product collective hosts a ton of webinars and different things throughout the year and I've learned a lot from those. They also host an annual conference which is now online so even more accessible. For me, those have been great resources. 
What was your biggest failure and what did you learn?
I would say depending too much on other teams can sometimes lead you in that direction. At Disney, my team had over 100,000 monthly active users that we were trying to serve. It was a diverse audience and we had to figure out which stakeholders to make happy, because you can't have everything be top of your backlog. I think that decentralization, dependency on a different technology or a different team, or needing an approval can be really challenging.
Sometimes it was really hard to keep everyone in the loop and to get the right people in the right zoom meeting at the same time. I learned a lot. I don't recall any huge decisions I've made that ended up being horrible in hindsight. But I would say stakeholder management has been a challenge, especially at a huge company like Disney where the app that I worked on had such a broad user base and everybody wanted input. That was tricky. 
What is keeping you up at night these days?
Right now at Givinga we feel pulled in a lot of different directions. We've got a couple of bigger clients, but we also have a couple of distinct use cases and in the current moment it's figuring out which is going to really help us win in the market. I wonder how we're going to get everything done that we promised and how we're going to hit those deadlines. I think that's probably not unique to our company or to me. I don't have a ton of startup experience but that's part of why they brought me on because they realized they needed somebody to steer the ship and set the roadmap and hold the team accountable. Those are some of the challenges that keep me up and there are probably people who can relate. 
What do you love most about your work?
I thought about this a lot when I was stepping away from Disney. What I love most about my work and what I was seeking was a company whose mission I could identify with. At Disney we say we 'create happiness' and it's hard to top that. But when I found Givinga I felt like I could really get behind their mission.
We work in charitable giving and want to help make it easier for people to contribute, to help others and feel connected to a greater cause. That really hit home. I think it's an underserved need in the market. Right now, if you donate to one of the big companies like Goodwill you may wonder where that money goes. How much do they pay their employees for example?
If you see on the news that only 10 cents of every dollar actually make it to someone in need, that's horrible. I don't want to contribute $10 if only $1 of that is going to help someone. I want all $10 of that, or at least $9 to make that impact. Givinga is working on this transparency. That was something I felt I could really get behind and support, and I wanted to be a part of that.
I feel like having something you connect with personally is a priority, at least for me, because you're going to have hard days and unless you hit the lottery, you have to keep at it. You have to do something that you enjoy, something that gets you out of bed in the morning and motivates you. So instead of just feeling like I'm punching in and punching out every day, I think it's important to find something that you're passionate about. 
I think what Givinga is doing is something new. The advantage we have is that we also have The Givinga Foundation, which is a 501 c3 nonprofit. We can help people make contributions, keep them tax free, and without trouble with the IRS. I think that's a big differentiator. We're also unique in that we have both an API that companies can leverage if they want us to be a kind of add on product for employees. For example, you have your medical, your dental and your 401k and charitable giving with companies matching a certain amount per year.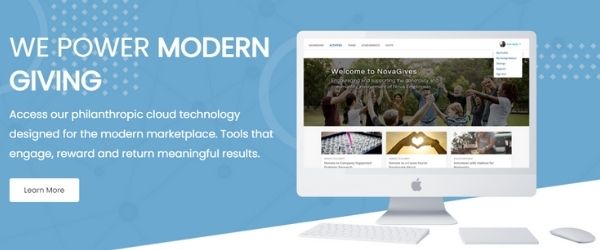 We can also leverage our API to plug and play right into somebody's existing technology. We also have what we call our white label platform if you don't have an existing system and you just want us to create user accounts and have that user interface, we can do that as well. I think that is what sets us apart. We've identified a few competitors, but we believe we have enough to differentiate ourselves. 
Some of the bigger banks and companies are beginning to consider their social impact, and starting to think about charitable giving and how they can introduce that to their platform. As we think about social justice, helping others, climate change and so many worthy causes I think companies are starting to realize the benefit. I'm hoping we're in the right place at the right time with our tech so we can really make an impact, and hopefully lead the way. And I'm excited for the future.