Outsourcing Your Digital Product Design Development
Outsourcing your digital product design and development can be one of the smartest moves for your business – but many organizations still have doubts and concerns about doing so. Keep reading to learn more about SaaS development outsourcing and its benefits, as well as what you should consider as you search for the perfect partner.
SaaS Development Outsourcing
Many companies hesitate when they hear the term outsourcing – they assume that it means they will lose control over their projects and have issues with communication or quality. When you partner with the right firm, though, these concerns are not an issue.
Even if you prefer to work with staff members you already know and trust, it is not always the most feasible option. Whether you are restricted by a budget or need additional knowledge and expertise to properly design your digital product, it almost always makes sense to outsource all or part of the project.
Just because you are working with a third party does not mean you can't exercise creative control or supervise the project! Clear communication and comprehension are key to making your joint efforts a success. If you take the time to carefully explain the project requirements and familiarize the team with your internal systems and culture, most of these issues can be resolved.
Why Outsource? And how to recognize a good outsourcing partner.
We've addressed the common concerns that businesses have about digital product design outsourcing, so let's get into the reasons why you should move forward. There are many benefits to SaaS development outsourcing, including scaling your products, getting access to resources and expertise, keeping your team focused on other core functions, and boosting your cost savings.
Scale Your Digital Products
Perhaps the most compelling resource to outsource your digital product design is that it can help you scale faster.
You know that your development and design workloads will fluctuate – more effort is needed to get a new project going, but that demand will usually decrease as the process moves forward. So, how do you decide when to scale your internal team? Does it even make sense to do so?
With an outsourcing partner, you don't have to worry about scaling your team and resources up or down. Instead, the digital agency will automatically adjust to your needs to ensure your projects are successful, but without burning through your budget.
This flexibility can help you scale your digital products faster, as you are not reliant on internal bottlenecks or left needing to procure additional resources at the last minute.
Access the Top Resources and Expertise
Hiring the right talent to drive your digital project design and development strategies is challenging. Not only do you have to recruit people who fit your brand culturally, but they also need to have the right experience and expertise to support your projects.
Even if you can find top talent in your industry and bring them on board, you will still need to train them on internal processes and get them up to speed with your projects. Plus, they are going to be expensive!
Outsourcing these roles allows you to access experts in UX design and development with ease. The right agency will pair you with a team of experts that are consistently learning new skills and staying up to date with new trends and development, so you never have to worry about having all the knowledge in-house.
It can be as simple as coming up with an idea for a digital product – simply present it to your design agency and their experts can support your project through to its launch! Their expertise can include things like wireframing, user research, interactive design, testing, and more.
While one individual may not be able to encompass all these areas alone, your outsourcing partner will be more than able to manage it. It will also help you learn from the successes of other projects, which can significantly impact your success.
Digital product development firms can also support other areas like advertising and promotion, gathering user feedback, and future upgrades and adjustments needed after launch. Even SEO guidance is not out of scope when you find the ideal partner for your brand.
Enhance Your Digital Products
Partnering with a digital product agency can also make a positive impact on the digital product itself. They have a significant experience with ideating, designing, building, and optimizing software, and working with them allows you to take advantage of that knowledge.
Think about it this way – all the experiences they have from other industries and similar products can help you enhance yours. Their team members have a broad variety of talents thanks to these experiences too, so it can only serve to benefit your company's strategy.
Keep Your Team Focused on Core Business Functions
Another benefit of digital product development outsourcing is that it frees up time and resources for your team to focus on core business functions. When you have a trusted partner managing your UX design, you can concentrate on innovation and growth – knowing that the experts on the other side will deliver the results you need by the product's deadline.
When you combine these efforts with communication and collaboration, you can reduce time to market and ensure that you deliver an exceptional user experience through your digital product.
Boost your Cost Savings
If the other reasons we discussed are not enough to convince you, consider the cost savings you will experience when having an outsourcing partner.
So, how can hiring a design and development agency help you save money?
For starters, it is much cheaper to partner with an outside team than to develop one in-house. Hiring full-time employees can be expensive – besides their salaries and benefits, you must also consider the cost of recruitment, onboarding, and training.
Likewise, outsourcing these roles can also help you minimize your long-term liabilities and other tax implications associated with employing a large team of designers and developers. Think about all the money you can save by not having to provide physical office space, resources, and support to these extra staff members as well.
Why would you pay more for the same services, especially when there's a good chance the team you are working with will have more knowledge and experience anyways? This is one of the biggest benefits of outsourcing since building a talented team within your organization can take a significant amount of time and money.
You don't have to go all or nothing either, though. If you already have some internal staff members, you can simply outsource the talent that you are missing to form a cohesive team – for a fraction of the cost. That means instead of hiring ten people to manage your product design and development, you can hire five and outsource any additional work that they can't manage on an as-needed basis.
The same idea can be applied to parts of the project too. If you don't have a UX design expert on your internal team, it may make sense to outsource that specific stage of digital product development. Don't waste your time and resources trying to fill that knowledge gap when an expert at a design firm can complete the task more accurately and efficiently.
These cost savings are especially important for startups that are launching their first digital products. There is a good chance that the budget is already stretched when you are in this stage, so outsourcing your efforts can help you save money without sacrificing quality.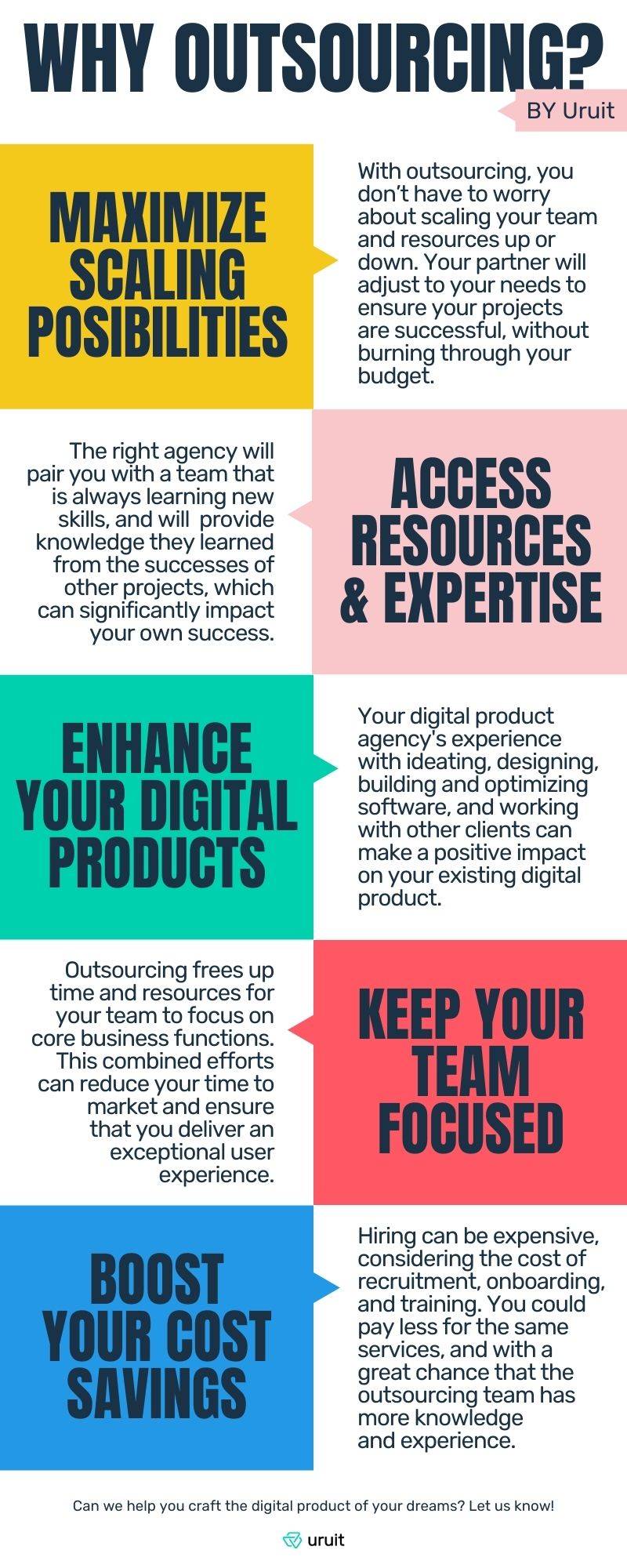 Finding the Ideal Partner
Now that you understand the benefits of digital product design outsourcing, let's review some tips to help you find the perfect partner for your goals.
Your products will only be as good as the teams behind them – and that applies to both those that work in-house and your third-party partnerships. As such, you need to follow a screening process that allows you to determine whether a firm is a good technical and cultural fit.
Partnering with the wrong outsourcing studio can not only drain your budget and resources but also negatively impact your product design and development.
Use these strategies to avoid costly mistakes and select an agency that will help your business scale:
Transparency is Key
Transparency is key when you first start to research a digital agency. Without full transparency, you will not be able to fully understand the firm's inner workings and how they can help you design and develop your digital products.
Start by reviewing the firm's website and assessing its credibility. Do they list previous clients that you could contact for references? Are there bios displayed to help you get to know their team? Can you easily determine their expertise and the industries they support?
If you have trouble finding any of this information, or other basic things like a contact number or address, you should start looking for a partner elsewhere. However, if you can answer these basic questions with no issues, you can reach out to learn more about how they operate.
Ask them about how they manage project scope, budgets, and timelines. The more transparent they are here the better, so you can decide if their methods align with yours. How do they balance speed-to-market with performance requirements and cost management? These processes will be crucial to the success of your partnership.
Talk to others in the industry and request examples of previous work. Reviews and referrals can help you narrow down the top candidates for outsourcing your digital product design – but don't just ask for examples of projects that went perfectly.
Reviewing a project that did not work out seamlessly will help you learn how they deal with challenges as they arise, as there will inevitably be some hurdles in a fast-paced industry and ever-changing environment.
You will be spending a lot of time working with the agency, so understanding what that experience will look like, and having a good communication, is key.
Look for Relevant Experience
The next thing you should look for when outsourcing your digital product design is the right experience. Your partner must be able to implement industry best practices for design and development – and they should have the track record to prove it.
Consider their portfolio and other clients they have helped. Likewise, understanding the experience of the entire team will help you determine if they will be a good fit for your organization. The goal is to find a partner that can give you access to accomplished professionals who have extensive experience with strategy, development, and design.
Support Beyond Product Launch
The right digital product development agency will do much more than support your product launch. In addition to helping design products that maximize your revenues, they will also present solutions that enhance the user experience and deliver long-term results.
For example, they can assist with ensuring you have access to data and research that allows you to innovate, drive users to your digital products, and enhance your strategic framework. Other areas they can prioritize include speed-to-market and creating a competitive advantage that helps you differentiate your brand.
After they work with you to implement a product design and development strategy, they can aid you with user experience research and fine-tuning your design processes.
With that said, carefully assess how the digital agency can support you in these efforts before you commit to working with them. They should rely on a collaborative approach that includes their own deliverables but still holds them accountable to clients and the user experience.
Clarifying the level of support that they can provide will allow you to avoid unpleasant surprises after you launch your digital product.
Final Thoughts
Outsourcing your digital product design and development can help you scale your projects, save money, access to resources and technology, and produce a better customer experience overall. However, you can't partner with just anyone – you need to find the right fit for your industry and specific business needs.
If you do your due diligence and partner with the right team, many of the outdated concerns about outsourcing won't even apply!
Consider the agency's portfolio of projects – what have they done well in the past, and how can that improve our digital product strategy? How will they enhance the skills and resources you already have in-house?
When you find an ideal partner, they will be able to help you with everything from user research and product release strategies to what technology you should be investing in.