We know that creating strategic and well thought out OKRs empower teams to work with more focus and precision, increasing performance and commitment. They are critical tools for motivation and direction inspiring every stage of the product life cycle. It worked for Google and continues to work for thousands of small studios and organizations to maintain agility while focusing on clarity in strategy and execution.
Product Managers play a critical role in transforming strategic goals into actual outcomes. But writing concise Product Management OKRs can be difficult. You must keep them short, which isn't always easy in the product area, and you have to implore a methodology to keep you on point and on task, producing meaningful OKRs that inspire. 
In this post we'll provide some recommendations on how to overcome common challenges that Product teams confront when creating OKRs and share our strategy on how create effective Product Management OKRs for product teams. 
Common Challenges in writing strong product management OKRs:
What to focus on 

 

How to structure Key Results

 

Finding good examples 

 

What to measure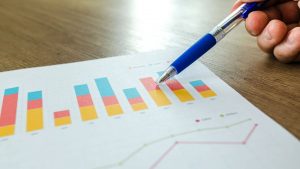 What to focus on
Let product stages lead  
Before you ask what, you have to consider the when and where as far as the product stage. User Research will require a different focus than improving AARRR metrics. But across the spectrum, OKRs focus on areas to improve, and they should be the goals that really matter. Prioritize goals and understand execution through the lens of outcomes.
While the objective is global and far reaching, inspirational and aspirational and usually quarterly, key results lead to achievement measured by real changes in customer behavior. So, in early product stages, you will be more focused on validated ideas, tested prototypes and user interviews while later stages will focus on the key metrics of your product.  
We recommend starting from the beginning of the funnel. You want to reap the full benefits of any improvements in your product, since users might not be caught up yet. Depending on what is most critical for your product we recommended focusing on 2-3 categories throughout any given period.
This will help you organize your team and your trajectory, especially considering your OKRs will address engineering, sales and marketing. This demand is why we recommend basing your OKRs on the product stage. This is a timeline and life cycle your team knows well and will inform the big goals as well as daily tasks. 
How to structure Product Management OKRs
It's all about the numbers 
Key results include lots of numbers. Whole numbers, percentages and decimal points. Key results are the 3-5 indicators (usually quantitative goals/KPIs) attached to each objective, enabling you and your team to easily track progress and ultimately determine whether the objective has been met, or even exceeded. 
Key results should articulate things like the number of top-priority hypotheses, or points of increase regarding the sprint team velocity, the reduction numbers regarding bugs-per-feature metric or number of requests to support. Key results should include percentages, dollar amounts, timelines and timeframes.
They are specific and quantitative, transparent and realistic. The focus here should be execution on outcomes and success through visible achievements. 
Finding good examples 
A few to get you started 
Product management OKRs break down your ambitious vision and strategy so that you can focus, ensuring that every effort and all time and talent are spent delivering on your company's main objectives. Writing OKRs can be really challenging, and can consume that time and those resources so we'd like to share a few here. 
Let's map out our OKR examples based on the lifecycle of product teams. The main goal of the product team is to release the product that will solve the problem identified for the consumer base. Product teams navigate a road of research, design, release and improvement. Those touch points can have several OKRs that inform direction and narrow focus, but we're offering just one here for each stage so that you get the idea. 
Research:
User research is key in gathering information that will inform every other stage. You're primarily trying to understand what problems users are having and validate you're your solution works.  
Objective: Validate the problem-solution fit for the product  
Key Results: 
Conduct a Design Sprint to generate and test the solution

 

Validate 5 top-priority hypotheses

 

Conduct 15 interviews with target users

 
Design & Developme
n
t:
At this stage the team has validated the idea and now transitions to delivering fast iterations. 
Objective: Increase delivery speed of the new features  
Key Results:  
Increase the sprint team velocity from 38 to 66 points 

 

Reduce bugs-per-feature metric from 1.6 to 1.0 

 

Reduce average lead time by 25% 

 
Release:
Here, capture only the product-related metrics and not marketing metrics (number of users or number of sign-ups, etc.) 
Objective: Improve the product release process  
Key Results:  
Reduce bugs found after the release by 20% 

 

Reduce the sign-up flow churn from 25% to 10% 

 

Improve the App Store rating of the new version from 4.0 to 4.5 

 

Improve NPS from 7.0 to 8.5

 
Improve the AARRR metrics: Acquisition, Activation, Retention, Referral, Revenue
:
After your release, it's important to improve the AARRR (Acquisition, Activation, Retention, Revenue Referral). We recommend focusing on 1-3 categories in one period and starting from the beginning of the funnel.  
Objective: Increase user engagement  
Key Results:  
Increase 1-month retention from 30% to 50% 

 

Increase average time in the app from 20 mins to 35 mins 

 

Increase the number of sessions from 5 to 10 sessions per user per day

 
What to Measure
Get specific 
As we've discussed, defining Product Management OKRs is particularly challenging because they can lean into engineering, sales or marketing. That's why using the life cycle as your map will inform your OKRs, because they're based on the stage of the life cycle the product manager fits in.
Measure everything that's relevant for that cycle and stage, clarity will inform activity so the more specific the better and remember to keep it short and sweet. 
The life cycle guides the creation of Product Management OKRs and the measurements within, so that specific metrics spell out for you and your team exactly where this objective will lead and what result will be achieved. By being transparent, your team is encouraged to participate fully and ownership of accomplishments are shared. 
We know many of you are planning for the year ahead and we hope this short post can offer tools and ideas from which to create effective, concise and clear Product Management OKRs. If building an innovative digital product is in your list for the next year, let us know!