Believing in agile principles and practices is on Uruit's DNA and helping our teams adopt them is a permanent goal for us. That's why when a bunch of witty people who while talking about vintage video games during lunch came up with the idea of building an Arcade Machine to enjoy in their free time, we saw an opportunity to start a Scrum project out of the development realm.
The team liked the idea  and decided to start, they planned an 8-sprints-long project to build the Arcade Machine! At  Sprint Zero they defined roles, the product Backlog, refined it and agreed to have a two-week sprint and stand up meetings twice a week.
It was a good start of our scrum project and the team focused on having in two weeks something that would be valuable for possible users. The first and second sprint were promising, everything was working just perfectly but sooner than later they remembered not all that glitters is gold, they realized the sprint´s goal wasn't clear, they had a tight budget, limited resources and were having trouble to coordinate the team. But thanks to Scrum and the results of a good Retrospective those problems were solved.
In the following sprint a new challenge arose, they suffered what I call the Absent Product Owner Syndrome and that's when they realized their team was a distributed one; Distributed Scrum Primer focuses on the importance of communication, so they were able to take care of that. Although the team was formed by people from different areas and that caused at some point problems in communication – as mentioned before- at the same time it was positive as it made spreading agile practices in the company possible.
When sprint number six arrived it had already been two and a half month, some participants considered the project was taking too long and decided it was their last sprint. That´s where the team saw a strong point of Scrum: Flexibility. The team was able to make changes and adapt according to the number of participants and amount of time each one was able to devote to continue building the Arcade Machine.
The scrum project was near to its end and the drive the team had at the beginning was starting to wane, but as it happens with a well-oiled machine after the energy that generates the impulse is gone, the bearings keep rolling for some time. Taking this into account they decided to give the project a deadline and focus on what they needed to do to achieve the goal of having a polished final product. Scrum tools helped them decide what was going to be included in the last Sprint and Pareto´s principle was on their side.
The final product met most of the user's 'main requirements and was an absolute success, so was the project.
What started as a casual conversation during lunch time turned out being a great opportunity to learn and apply Scrum and as it was planned to have an Arcade Machine! Which, by the way, apart from being used to play works as a Jukebox in every party we throw!
Read the full story!
Sprint 1- A good Start to our Scrum Project
We got the old 21'' CRT that first motivated this initiative, a machine from UruIT and some speakers and Xbox joysticks from a team member.
Sprint 2- Not all that glitters is gold
Just two stories finished: the joysticks (brought from China in less than 10 days, quite an achievement!) and little spreading of our goal to the rest of the company.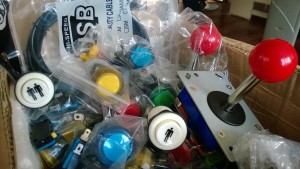 Sprint 3- The Absent product owner syndrome
Seeing movement creates movement: We decided to improve the taskboard for a greater visual impact to the inertia we expected to create.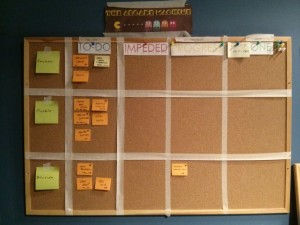 Sprint 4 –  The results of a good retrospective
Build the control panel, connect it to the PC to allow playing with joysticks and install more games in the emulator. Mission accomplished!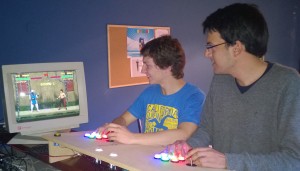 Sprint 5 –  Spreading Agile practices
Getting ready to present it!  We built the frame, created the internal design, installed more emulators, got more games and installed a Jukebox to play some music!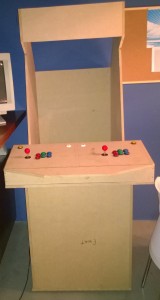 Sprint 6-  Scrum´s flexibility
At the end we had a coat of paint, some improvements on the frame and the control panel plus an easier ON/OFF switch!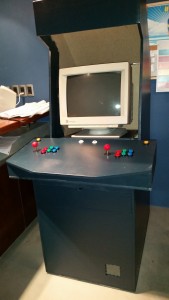 Sprint 7- A well oiled machine
We put WiFi on it to listen to music online, downloaded new rooms to make our list of available games bigger and , advanced the external design.