We all know product managers play a crucial role in the success of digital products, so this year we set out to learn all about product management best practices and the current challenges product managers face through our unique survey about the state of Digital Products. We've undertaken it in order to pay it forward to the digital product community, from which Uruit has learned so much over the years!
The State of Digital Products survey took answers from over 300 Product Managers about their work dynamics, technology strategies, challenges, and more.
With responses from top companies such as Amazon, Amex, Google, and Netflix, the study found some fascinating statistics and insightful data about the current pressures in the field, along with important information about the future and trajectory of the digital product arena.
Outsourcing Is Here To Stay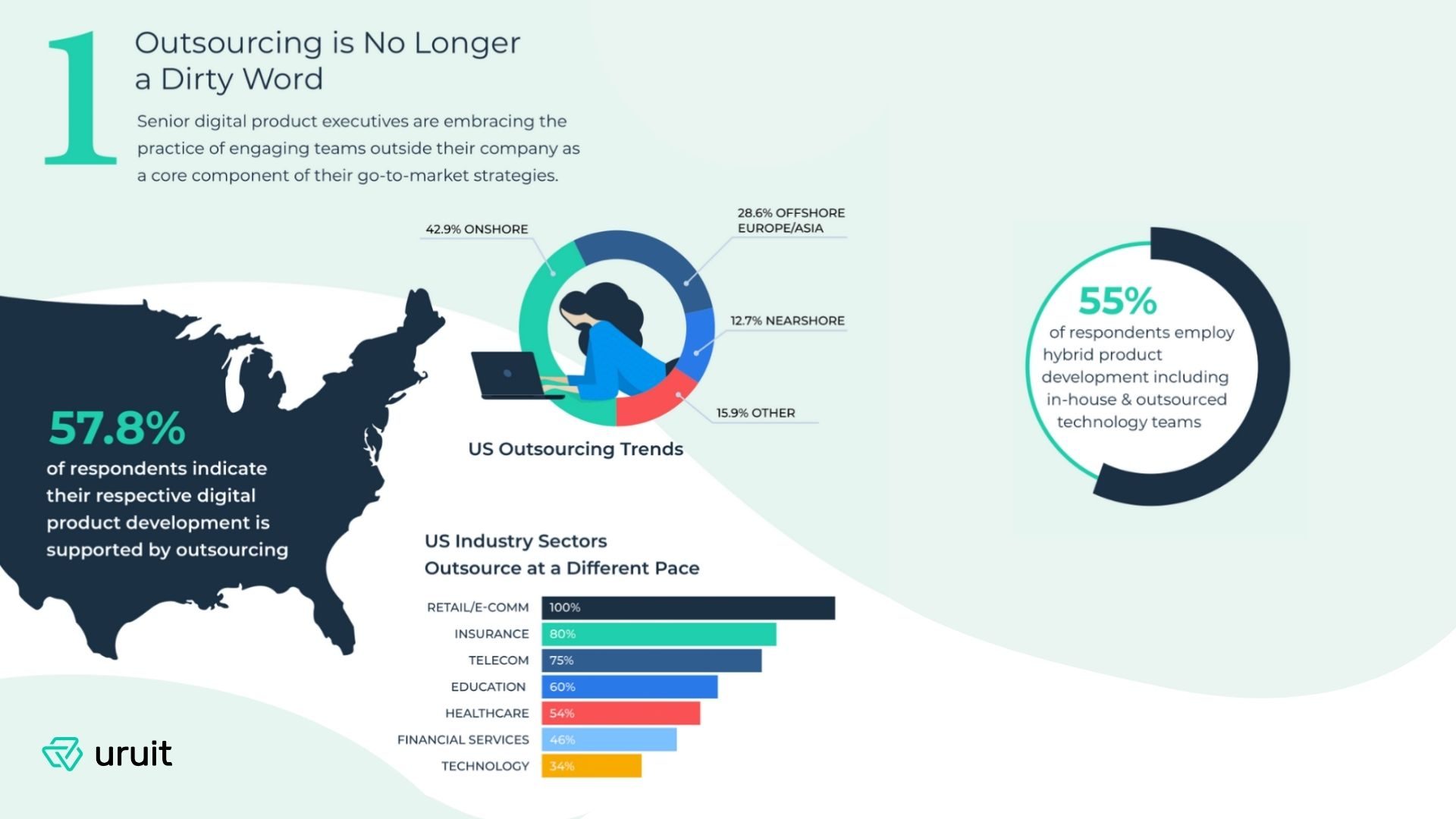 Outsourcing in the digital product space has grown exponentially due to the Covid-19 crisis and there are many reasons for this.
Our respondents stated various issues, including talent shortages and increased pressure to develop better products as customer demand for digital products grew. And, as a result, the look and composition of technology teams have changed faster than anticipated.
Of our respondents, 55% said that their company now operates a hybrid in-house and external contractors model for their technology teams. In fact, in the larger companies of 1,000 to 5,000+, less than half (49%) continue to have a technology team entirely in-house.
This switch to outsourcing is particularly prominent in the Retail and E-Commerce field, with 100% of individuals asked, in this sector, having some form of outsourcing or another.
And even with small businesses, a significant segment of 12.8% outsource 100% of their technology teams.
This is not to say that the internal product manager isn't an integral part of companies' success anymore. Still, more and more businesses have to think quickly and reassess the traditional steps of the digital product life cycle. For many bringing in an external team can bring a different, unbiased viewpoint to a project while being more accessible and faster to source than a full-time team member.
This increase in external contractors has also been driven by a significant shift in the job market. Nowadays, more and more technology experts are now choosing to work independently rather than as team members or employees of a company. Reasons such as:
This has resulted in many companies having less control over choosing between agile and waterfall project management. Companies are now often dependant on the scheduling and the skillset of the available talent pool, rather than the company's preference to project management.
The question is, will this spell the end of agile vs. waterfall project management debate due to the new working culture?
Machine Automation Needs To Thank Digital Product Development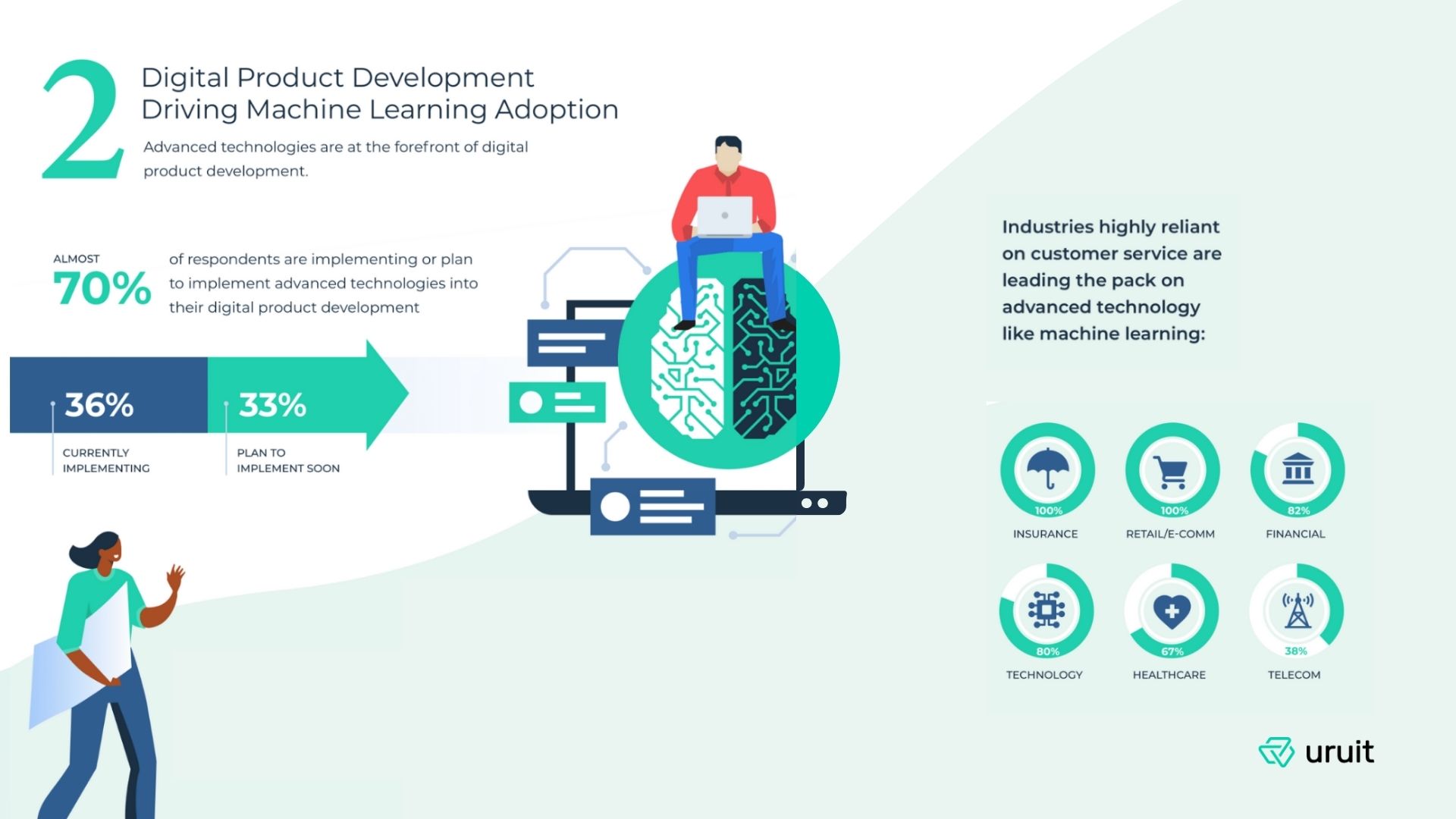 As the makeup of product development teams continues to evolve, so too are the ways that companies are executing the work itself. In years past, managers would groan at the thought of product backlog resulting from staff delays and human error, often spending precious time formulating the quickest way to stop setbacks and drive the project to completion.
But now, with increased demand and availability of advanced technologies, it's becoming a vital part of a project leaders' role to select, learn and implement strategies and technologies, such as machine learning, to make everything move that much quicker.
Our study discovered that nearly 70% asked are already working with or in the process of implementing machine learning into both current and future projects.
The additional drive towards this technology-forward approach, automation, and Artificial Intelligence will only increase as time moves forward. And our survey shows that the vast majority of teams are getting prepped and ready for it to ensure continued uplifts in their product success metrics.
Being The Best is Hard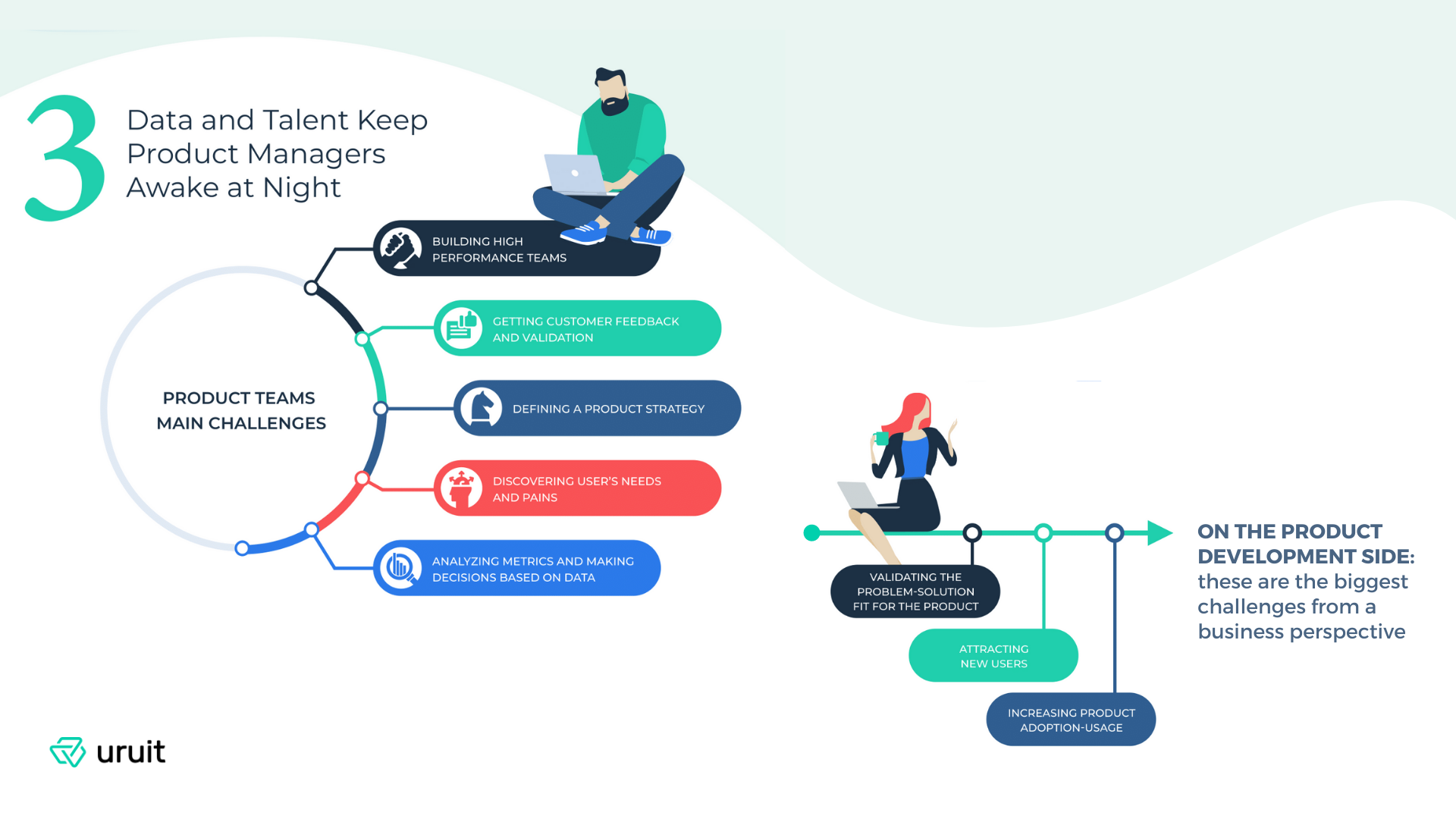 The thing is, to be at the forefront of your industry will certainly require a heavy amount of specialist skills and clear insight – top-level, in fact.
From uncovering what your customer really wants and needs before your competitors to making sure that you have a happy, motivated workforce of people who know what they are doing, it's not enough to just be a good product manager anymore.
In the modern age, to be excellent, it seems that you need to be two steps ahead when building high-performance teams and making sound judgments backed with quantifiable product management metrics and data.
This is why product managers must keep their knowledge up to date on the latest technologies and make sure they are actively working on and developing new strategies to roll out to a highly qualified team.
Honing these is going to be the key to achieving those all-important product management metrics in the present, and certainly in the future as well. You can read more about these experiences in our Product Conversations series!
The Future Looks Bright!
Our study was a fantastic success, and we were able to gather some deep insight into how digital product teams operate in both the US and around the world today.
It has given us invaluable knowledge to share with you about the challenges that face product managers from across industries. On top of that, it's also given us clues of how to implement changes and ensure continued success as we move forward into the future.
To find out more about the incredible insights we have discussed, plus lots more valuable data, check out our full presentation and see what it means for you, your company, and the way to drive it all forward.