Enhance User Experience with Evaluation Quiz
In today's crowded market of software, the usability, or ease of use of your application, plays a vital role in the uptake and therefore the success of that app. Do you know what the usability of your current system or application is?
Some time ago, we built a simple UX tool based on the principles of Jakob Nielsen, a User Advocate researcher and designer known as "the world's leading expert on user-friendly design." Nielsen's world-renowned principles are called the "10 Usability Heuristics for User Interface Design" and they help you assess the user's eye-view of your system and evaluate its performance and application usability.
In this post we will give you an overview of this heuristic evaluation and offer a quick and practical tool for you to start measuring how usable your system really is.
Jakob Nielsen heuristic evaluation
As opposed to a specific usability guideline, Nielsen's 10 principles act as broad rules of thumb that every system should follow in order to fulfill its purpose of bringing value to its users. We've listed these principles below, but feel free to read more on Nielsen's website:
Visibility of system status

Match between system and the real world

User control and freedom

Consistency and standards

Error prevention

Recognition rather than recall

Flexibility and efficiency of use

Aesthetic and minimalist design

Help users recognize, diagnose, and recover from errors

Help and documentation
Applying the principles in real life
For example, isn't it frustrating when you're swiping through Instagram photos and you end up in the Inbox? Well, this seems to be the result of not fulfilling the Consistency and standards principle: "Users should not have to wonder whether different words, situations, or actions mean the same thing." In this case, the same gesture of swiping right to left shouldn't have two different uses.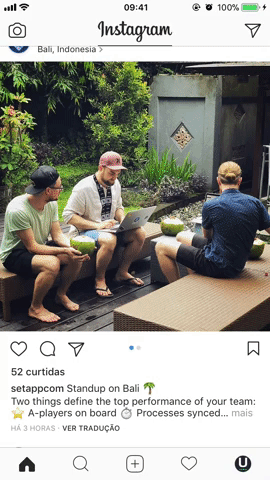 By applying Nielsen's principles in our UX Quiz, you can easily assess your software's usability for free, just like we did with Instagram in the example before. With this quiz, you will be scored on each principle by answering simple questions about your software. At the end of the quiz, you will receive the final results which you can then use to improve your software's usability.
Here's an example of what the questions will look like: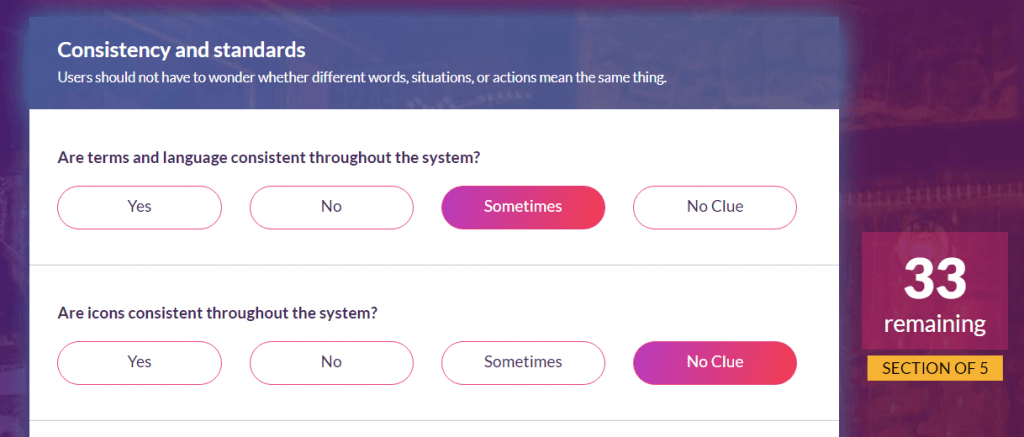 Things you may find helpful:
You can run this quiz on an entire application or focus on a specific feature.

The quiz can be done alone or with your team. If you decide to do it as a team, it will naturally take more time. However, the feedback and discussion will certainly be richer.

Try putting yourself in your user shoes.

Once you have the results, take action on the lowest scores.
Note: this test can be run periodically, or as much as you want. The more often you run this test, the more you can tell if your actions to improve the usability are actually working. Remember: this quiz is free, and always will be.
Here is an example of the results you will receive by email after completing the UX Quiz: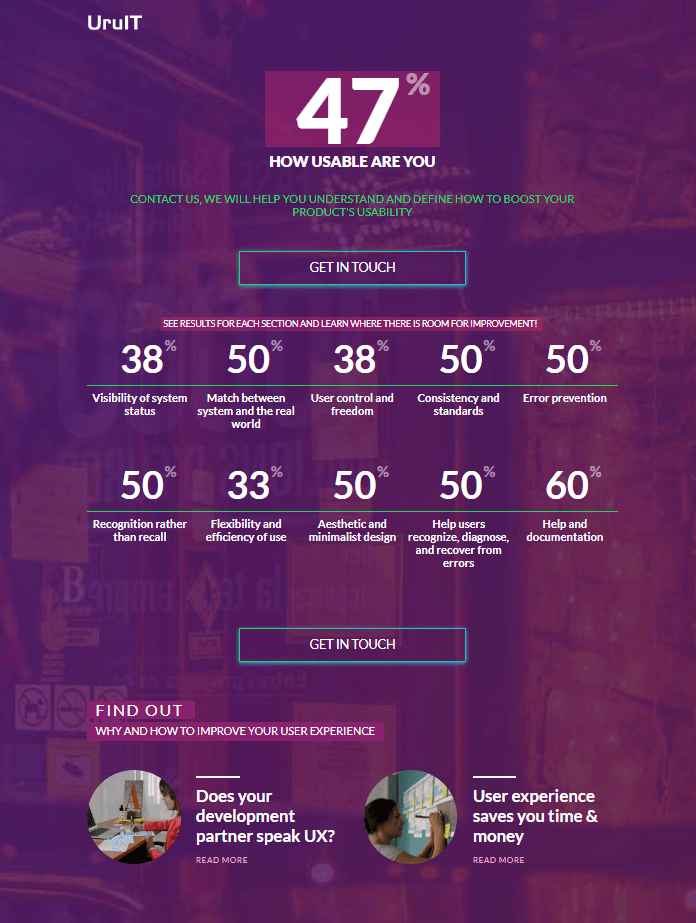 If you need any help taking action once receiving your results or need more guidance along the way, don't hesitate to get in touch!
---
About us
Uruit works with US companies, from startups to Fortune 500 enterprises, as nearshore partner for project definition, application design, and technical development. Our Uruguay and Colombia-based teams have worked on over 150 design and development projects up to date.
Are you ready to make the leap in your software development project? Tell us about your project and let's talk.