6 Key Digital Trends Disrupting Healthcare
The digital healthcare industry is on the cusp of a massive transformation. 
All signs point to a time when digitizing traditional healthcare will be commonplace across the nation and around the globe – and it won't be long before even more innovative healthcare products are launched and widely adopted. 
Some of the key digital healthcare trends that are transforming the industry include: 
On-Demand Healthcare
On-demand healthcare is booming because patients are demanding more convenience and better experiences with their healthcare. Nowadays, mobile technologies help healthcare companies provide better care and also help patients have more personalized experiences that improve their lives.  
Specifically, 59% of consumers want more ways to communicate with their doctors. And in general, consumers are demanding more access to healthcare.  
This has been possible with the current rise in wellness apps, patient-doctor instant message (IM) applications, and even AI-powered chatbots. 
Combined with new predictive healthcare technology, artificial intelligence, and blockchain technology, on-demand healthcare is creating a huge opportunity for digital healthcare technologies to improve healthcare delivery. Check how we improved the experience of a nutrition app with a live chat! 
Big Data
Big data is one of the critical digital technologies that's transforming healthcare. 
The amazing digital transformation of healthcare has been driven by technology (such as EMRs and EHRs) and technology-enabled data. 
One of the things that healthcare-related technology companies can do to differentiate themselves in this era of digital transformation is to use big data to address specific problems in healthcare. 
In healthcare, big data can be used for a wide range of tasks such as describing massive amounts of information that help collect patient records, manage hospital performance, and create treatment models that save lives. 
In fact, one of the biggest benefits of big data is how it has helped reduce medical errors and inconsistencies in patient data. And by combining big data's potential with predictive analysis technology, hospitals and clinics are able to help facilitate staffing and reduce costs. 
On a larger scale, big data analytics in healthcare has potential to help prevent epidemics and figure out how to cure diseases. 
In both the short and long-run, the healthcare industry can use big data to improve care and to gain insight into disease more quickly and accurately. Finding better ways to process data can be useful even for managing hospitals, like we did in this experience.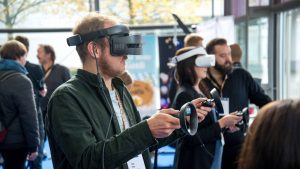 Virtual Reality (VR)
The new field of medical VR is already fascinating clinical researchers and real-life medical professionals.  
Virtual reality (VR) has already begun to make major inroads into the healthcare industry. It has been used by Osso VR and ImmersiveTouch to train surgeons, help medical students learn, and educate patients. 
In fact, Harvard Business Review found that VR-trained surgeons had a 230% boost in their overall performance compared to traditionally-trained surgeons. 
Impressive, right?  
When applied to patients, VR can be used in a variety of ways to help treat a wide range of diseases including PTSD and strokes. 
In fact, it has been used to help people who are paralyzed recover movement, or for people who have trouble speaking due to aphasia. 
One of the benefits of this technology is that it gives physicians the opportunity to build empathy for patients – a critical skill in medicine. As The University of New England found, students who participated in age-related conditions simulations via VR better understood such conditions and displayed more empathy for the elderly. 
Wearable Technology and IoT
Wearable technology is a theme that seems to have a never-ending supply of new products, and is one that is important to both consumers and the medical community. 
According to a report from Digital Authority, the wearable medical device market is expected to reach more than $27 million by 2023, a spectacular jump from almost $8 million in 2017. 
Perhaps the best part about wearables for patients has been the personalized healthcare experience so they can have more control over their health information.  
Wearable technologies such as smartwatches and heart monitors have become increasingly common factors in the healthcare industry – and they're getting more sophisticated. 
Beyond the FitBit, wearables like Automated insulin delivery (AID) systems are combined with continuous glucose monitors (CGMs) to help about 8.5% of the entire world's adult population.  
The technology is life-saving. 
And not only do these technologies monitor and track patient health, but wearables also improve the efficiency of healthcare providers by reducing their workload and administrative tasks. 
By collecting data from wearable devices, physicians can improve the accuracy of treatments and even use biosensors to detect early signs of viruses like COVID-19. 
As more and more consumers and healthcare facilities use wearable technology, aggregated anonymous data can help create cluster maps that can indicate viral outbreaks with temperature information.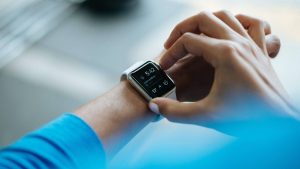 Predictive Healthcare
Predictive healthcare is an emerging digital healthcare trend that allows us to identify and prevent health conditions before they occur. 
Many of the best examples of predictive healthcare technology include: 1) screening for long-term health conditions and chronic illnesses, 2) monitoring the effects of medications, and 3) identifying abnormal physical symptoms that could be signs of a serious disease. 
With big data innovations and informed decision-making, predictive healthcare analytics has been able to help healthcare companies predict what illnesses and diseases could become major issues of concerns for large populations.  
This ability to combine massive volumes of patient data with complex algorithms and sophisticated predictive models, medical professionals can now make faster and more accurate predictions about an individual patient's needs. 
Hospitals and clinics can also use predictive healthcare technology to prevent no-show appointments. AI technology can now capture a patient's social determinants – such as lack of transportation – and can alert healthcare providers to help arrange transportation for those patients.  
Combined with machine-learning AI and patient monitoring devices, predictive technology can also help provide tailored lifestyle recommendations or communications to patients with reminders to refill prescriptions. The same can alert care managers to of delays in patient care plans.  
Artificial Intelligence
Artificial intelligence is a term that encompasses any machine learning and computer simulations that are meant to make decisions based on data. 
It is a growing technology in the healthcare field that is used to make medical diagnoses, treatment plans, and more. 
Artificial Intelligence (AI) is a fascinating technology that can be used to help you create better digital healthcare products and services. 
It can come in the form of chatbots, like Buoy Health, that act as virtual health assistants and help to deliver highly personalized patient experiences. And it can come in the form of a software, like PathAI, that helps identify rare diseases and help hospitals manage patient care from diagnosis to treatment. 
Deep-learning AI, like BioXcel Therapeutics and BenevolentAI, can even be used to identify and develop new medicine for better targeted treatments. 
In fact, recent findings show that AI can slash early drug discovery timelines by four years against the industry average, and generate cost savings of 60%. 
AI can also help digital healthcare companies develop and expand their client base, so that they can generate more revenue and generate more revenue per client. 
Overall, AI is predicted to bring $150 billion dollars in annual savings for the US healthcare economy by 2026.  
Conclusion 
Healthcare is ever changing, and the wide range of technologies that are playing a part in the industry continue to expand. 
As a result, digital healthcare trends, including predictive healthcare, virtual reality, wearable technology, big data, on-demand healthcare, and artificial intelligence, are becoming more significant to individual patients and to larger healthcare applications. 
Not only can these technologies help health professionals manage the healthcare system better, they are also saving more lives each day. 
Which digital healthcare trend do you think is the most important right now?