We know from experience that small things can have a huge impact. A new baby in the house can be the tiniest one with the largest demands, a little hot sauce on your taco can set your mouth on fire and a little bit of sleep can leave you dragging the next day. 
Microcopy is no exception. The prefix comes from the Greek μικρός (mikrós), meaning "small" and like micro-organisms, micro-brewing and micro-chips, "microcopy" is small in scale and large in importance. Microcopy is savvy, leading us through websites and apps in an efficient and entertaining way, anticipating where and when we might get lost, what we might be thinking and how we might be feeling about a product, process, opportunity or experience. 
So,

 what is microcopy 

e

xactly you ask

?
Microcopy is the small amount of copy on an app or website that provides guidance or context. It's on and under buttons, it's on forms and under instructions, in search bars and account registrations. It's everywhere! It can reassure users, present a call to action or prompt clicks. It can even make you laugh. It's encouraging, inviting, promising and understanding. It says "no credit card required," "sign-up now," and "it's free." It's pretty great. 
Microcopy is your tour guide. When written well it reduces confusion, inspires connection and increases user engagement. It impacts sales by improving the User Experience and humanizing websites and apps by offering personality and some much-needed humor. It can be empathetic, witty, or charming, but is almost always an enhancement of the site or app. 
When done well, microcopy converts leads into customers, impacting sales, numbers and businesses and improving your digital product's performance. Like any good tour guide it provides the tips and directions you didn't even know you needed and then can't imagine the experience without.
When you visit Machu Picchu, Chichen Itza or Petra it's nice to have a tour guide, whether a local expert, your phone or a tiny pocketbook with historical dates and facts. Someone or something that guides and informs your experience makes it that much more enjoyable, memorable and valuable. It enriches your journey. This is microcopy and any website can be your Machu Picchu or Petra. Let's breakdown how microcopy enhances UX.
Anticipat

ing

Concerns: Users Are Supported 
Flight attendants are experts at this. When you board any plane, in any country around the world, after you  squeeze into your seat the presentation begins. Flight attendants explain where the emergency exits are, how to inflate your life vest and how to put on your mask before assisting others. They are anticipating your greatest concern and preparing you for an emergency. 
Where concerns are concerned, microcopy is your flight attendant. 
We all make payments online and have all felt an immediate wave of worry wash over us after submission. Did it really go through? When will it post? Is it being processed? Has there been a data breach?  
Microcopy is there to reassure you. Like on this example: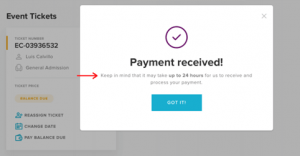 Microcopy says, don't worry! We know you might be anxious but keep in mind it may take up to a day to receive and process your payment. Breathe easy and rest assured. We're on it.  
Other concerns can also be addressed via microcopy, like common worries about getting spammed, making irreversible decisions and changes online (like during account set-up) or encountering error messages like 404 notices. Microcopy can anticipate and address all of these concerns and more. 
This example on the Forks Meal Planner site is there to give you an out if needed: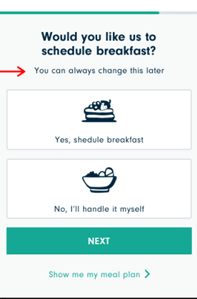 Microcopy says, you can always change this later! Forks Meal Planner understands that life is crazy and sometimes schedules are upended. 
Good microcopy anticipates concerns and by doing so reduces stress and uncertainty. 
Identifying what comes next:
Users 
are
 guided
These days we avoid unpredictability. Our time is well organized, our trips are mapped out in advance. We like to know what's coming up next and what to expect. Whether it's a road trip across the country or errands in the city, we rely on our apps to get us there as fast and as safely as possible. 
Microcopy spells out next steps and foreshadows future pages, processes, actions and opportunities. Microcopy for Dropbox encourages you to take your experience to the next level by completing the following steps: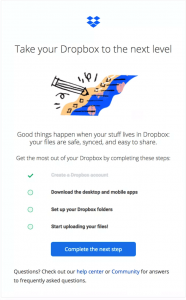 Microcopy tells you that you good things happen when your stuff lives in Dropbox! You can get the most out of your experience by completing the next steps, and why wouldn't you? With next steps spelled out clearly, microcopy holds your hand and gives you a nudge in the right direction. 
On the Atlassian site, microcopy even leads you back when you've gone astray: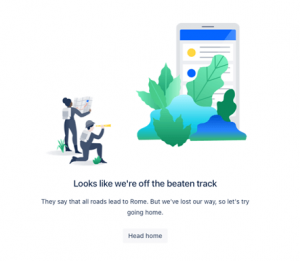 In this case microcopy is poetic and rhythmic, memorable, enjoyable and ultimately effective in leading users back without losing them completely. Well considered and executed microcopy retains users through engaging text that keeps people clicking.
Good microcopy clarifies what comes next and guides you there. 
Humanizing a website or app:

Users are 

understood
In my household Alexa doesn't understand my husband's thick Colombian accent or my three-year-old shouting out demands. There is a lot of bad music played and lights going on and off when they are not supposed to. As much as tech has simplified and streamlined our lives, and as automated as things have become, talking with Alexa still isn't the same as talking with a friend, colleague, customer service rep or even a stranger.
Humans want to connect (with other humans), relate to one another and be understood. We want to know we matter; we want to feel valued and appreciated, we want to feel seen and heard. Microcopy is a company's way of connecting and humanizing their website and app experience.  
Microcopy provides expressions of understanding, humor or grace when you need them most (like on 404 error messages). Why not take the opportunity to transform a typically frustrating experience into an intriguing and memorable one; in a good way and for all the right reasons? Mantra Labs is a perfect example of simple yet effective creative microcopy on a 404 page. It's worth going wrong on purpose just to see the graphics and the timer countdown: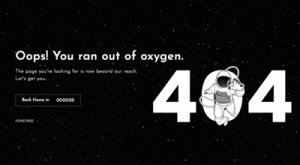 Microcopy says you've gone beyond their reach, but they're going to get you home. And after visiting a page like this with its creative text and striking graphics, you don't want to go anywhere else. 
In this case, microcopy exploited a typically annoying page and experience and turned it into something visually stunning and ultimately unforgettable. Microcopy can humanize a website by taking advantage of every opportunity to relate to UX and then to turn normally negative experiences into the opposite, into positive and impactful ones.  
Microcopy says we're going to make this experience enjoyable, fun and productive. Like Branch inviting you to chat and ask questions: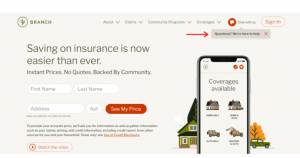 Microcopy says, 'we're here to help' and it feels reassuring and so supportive. Clearly a person wrote this who understands. Clearly a person wrote this who cares. Obviously, the company cares…and there you have it. Good microcopy humanizes websites and apps, and makes lasting impressions of your digital product. 
Compelling an action:
Users are inspired
You're in a foreign country known for its delicious exotic cuisine but questionable ingredients. You've traveled across the world to get here and don't want to miss out on anything, but you're unsure, kind of paralyzed at the moment. You're in the night market where everything smells amazing and you're eager to try the local delicacies but fearful of getting sick.
Out of nowhere, a world famous, Michelin star chef appears from behind the stall where you're standing and says 'Go ahead and try it. I made everything myself.' Well in that case, alrighty then! You eagerly dive in and without hesitation take a huge bite and savor the flavors. 
Confidence compels action. Whether in a night market in some far-off place or on a website in the comfort of your own home, if you feel confident about the decision you're making, it's very easy to make. If there's a two-week free trial offered and no credit card required, why wouldn't you confidently sign up? Like the chef's reassurance at the night market, the free trial with no strings attached encourages you to dive in and sign up without hesitation. 
If microcopy anticipates your fears and concerns, it also offers the reassurance needed to inspire you to act. Microcopy is there to instill confidence so you can take advantage of opportunities without doubt or uncertainty.  
On the Supreme Golf site this is the promise of savings every time you book:

Saving every time is pretty appealing. So is designing your plan with FullStory Pro after trying their free trial: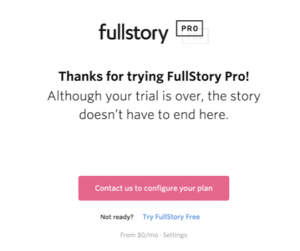 Microcopy says, your story doesn't have to end here! And you don't want your story to end. So of course you click to configure your plan.  
A little bit of microcopy can instill a great deal of confidence and compel users to complete an action that changes the course of their life and their relationship with the company. It can be a small commitment, or a larger engagement that is long lasting. Whatever the impact, it's microcopy that leads the user there, supports the decision, provides the necessary information (and no more than that) and then inspires the click. 
Good microcopy compels action. 
Conveying a company's personality:
Users are connected
Beyond simple brand identity, company personality shines through these days like never before and consumers are responding. By connecting with personality, users relate to companies on a personal level and see themselves as valued participants, not just passive consumers. Hilarious, self-deprecating, passionate, humble and sometimes sarcastic microcopy captures company personality and connects users. 
When it comes to personality, microcopy is your charm. 
Like on the Lego 404 page, with a figure's dismayed expression and the message that everything is still awesome: 
Pretty awesome microcopy. And the best way to handle a 404 page, by making someone laugh while also conveying company personality. 
Microcopy on the Tumblr mobile app is there to offer some fun and some irony: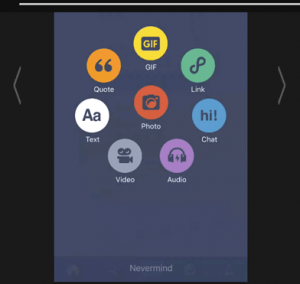 Yup, sometimes microcopy just says "Nevermind". 
And again on Tumblr, on what can be dull, boring "could not find" pages microcopy expresses company personality and empathizes: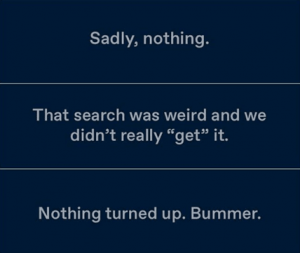 Good microcopy conveys personality, sometimes makes us laugh and is anything but a bummer. 
Converting a lead to a customer:
Users are committed
When leads feel like their concerns have been anticipated and addressed, next steps have been identified and they've found wit and personality, clarity and guidance they are much more likely to become customers. This is where tiny microcopy has the biggest effect.
Forks Meal Planner encourages converts by starting with a free two week trial, no strings attached and no credit card required. This builds trust and instills confidence by inviting users to experience plant-based meal planning made easy. It enables users to experience the product, increasing the likelihood of lead conversion. It looks something like this: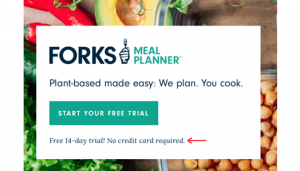 Your 14-day free trial will likely lead to a subscription and then to referrals to friends and family. A simple invitation in this case promises to transform your diet and nutrition, it may even change your health and your life. And microcopy helped you get there. Microcopy converted you because it was non-committal and without pressure, it was inviting and appealing. 
Microcopy built a relationship with the user throughout the website, maximizing every opportunity to connect and convey personality, to inspire action and build trust, to enhance UX and compel commitment. 
In doing all of this, good microcopy converts leads to customers.
In conclusion:
Microcopy, that small amount of copy on an app or website that provides guidance and context is much more than just a little text. It is the flavor and personality of a company, the tour guide, the reassuring, handholding, joke telling personality that's understanding, encouraging and inspiring, and sometimes really funny. 
Microcopy is that little bit of text that makes all the difference. By anticipating concerns and addressing them, mapping out next steps and guiding users, humanizing a website or app through empathizing language, compelling an action and conveying a company's personality microcopy increases the conversion rate of leads to customers and enriches UX along the way. The journey is much more enjoyable, much funnier and more interesting because of good microcopy. 
That little bit of text really does make all the difference. So go have some fun writing or finding your favorite microcopy, and see what an impact a tiny bit of text can make.