Uruit 2nd Office For Product Development in Colombia
At a sunny and cheerful WeWork in the Chicó Norte region of Bogotá is located the new Uruit office in Colombia. The main reason why we decided to expand to Bogotá is due to the city's size and its vast pool of talented professionals in different areas of product development outsourcing.
"During these years working with nearshore software development in Colombia, we've had the opportunity of receiving job candidates from Bogotá. Some of them are part of our team today, while others aren't, mainly because they couldn't move to Medellín.
From our experience, we realized that there are great profiles in Bogotá with strong skills in English and technical areas we're interested in, such as Data Engineering, UX, Devops, and Machine Learning." says Marcelo Martinez, Uruit Colombia Country Manager.
Besides being a technology and innovation pool in Latin America, Bogotá also offers more airline connections, especially to and from the USA, UruIT's main market since its inception in 2007. We started operations in Montevideo, Uruguay, and in 2016 opened a development center in Medellín.
"Being in Bogotá will allow us to tackle bigger and more ambitious projects, as well as to add more value to our existing clients, complementing their projects with new capabilities," explains Martinez.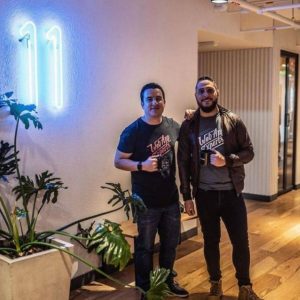 Planning the Colombian expansion
The first time Bogotá was considered as an expansion option was at the end of 2018, when the executive team was discussing strategic plans for 2019. Around six months later, two Human Resources members spent a few days in Bogotá to get to know the city and analyze office real estate options.
"The cowork is beautiful and it has our style. Each company has its own office, but there are also collaborative spaces for networking and exchanging ideas with different professionals. The installations are inspiring and they offer attractive benefits that are part of the perks we offer at Uruit, mainly because they foster sharing and collaboration," says Alejandro Ochoa, Uruit's People Care Champion.
Since September, a developer has already been working from the new office, receiving constant visits from his Medellín colleagues. UruIT Colombia expects to fill the room quickly by hiring developers with experience in the company's main technologies: Angular, .NET, React, Node, and Django. You can learn more about the open positions here.
On October 15th we had an opening event at the WeWork, wherein a couple of developers gave talks on NodeJs and React. Also, Marcelo and Alejandro presented Uruit, our projects, work culture, and open positions. Around 80 professionals from Bogotá's tech community attended.
We're thrilled to be in this new city and to keep offering great product development outsourcing options, from product strategy to product growth. And we're excited to always be growing our highly skilled team of developers, designers, Product Owners, and more.
If you're interested in working with our teams, do get in touch!