Nearshore Nexus 2017
Last week we came back from Silicon Valley after spending two jam-packed days at Nearshore Nexus 2017, an intimate conference organized by Nearshore Americas. This organization is an independent online business news provider dedicated to promote the growing outsourcing market in Latin America to the world.
Held at the Google Quad campus, the seventh annual edition drew in over 150 executives from the US and Latin America. The participant's goal was to meet in a friendly environment and discuss trends and opportunities in the BPO and software outsourcing in Latin America landscape. In this blog post, I want to share some impressions from the conference and the overall landscape of outsourcing in Latin America.
Uruit, Nearshore Company of the Year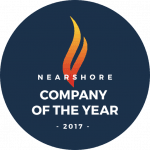 We went to the conference's Illuminate Awards, a.k.a.the Oscar's of Latam outsourcing. It recognizes and rewards Latin American companies, exports agencies, and entrepreneurs who fuel the industry year after year.
We are very proud to say that we took home the most significant award of the evening!! Being named "Nearshore Company of the Year" was a great honor! Actually, it recognizes our 10 years of hard work that contributed to the positioning of our continent as an ideal technology companion for US startups and companies that are looking to develop software.
During my brief speech, I mentioned the untapped opportunity that outsourcing in Latin America means for most North American companies. Timezone and cultural proximity are the most common reasons to go to South America. However, I encouraged attendees to learn more about the state of the art talent and availability as further reasons to partner with companies like ours for working on digital transformation initiatives, user experience, machine learning or agile product development. There's a lot of potential in nearshore outsourcing to Latin America that companies all over the world should know.

---
Google Launchpad Accelerator, a global accelerator for startups
Having Google join the party and speak about its Launchpad Accelerator set the tone for the growth of the entrepreneurship ecosystem beyond US frontiers. It helps entrepreneurs in emerging countries to build and launch their digital startups. Also, it provides an innovative in-person mentoring program, training resources, and intelligent investment connections.
Entrepreneurs from 25 countries who are part of the program had the chance to fly to Silicon Valley, the mecca of entrepreneurship, to learn. Google Launchpad Accelerator plans to finish off this year with 40 countries enrolled. By that, it would become the largest startup Accelerator initiative on the planet.
The boom of Latin America's startup ecosystem
Also during Nexus 2017, we found out that other groups are interested in developing the startup ecosystem in Latin America, such as the recent opening of the 500 startups office in Mexico City. Countries are catalyzing growth by replicating and improving the model developed by Startup Chile, a government program that supports national and foreign entrepreneurs. One of them is Ruta N in Medellin, which we decided to use when opening our first Colombian office. Other countries like Uruguay also have Innovation Agency programs to support startup accelerators. Even private companies have been launching their own incubator programs, like Telefonica's Wayra. 
As a result, the industry is already producing some tech unicorns like MercadoLibre, Globant, Despegar, and OLX. US-based funds are also showing interest in Latin America startups. In the past year, Google's Brazilian campus, Google São Paulo, announced its first batch of resident startups. Even countries like Brazil whose innovative spirit may be temporarily discouraged due to political and economic crises still have government initiatives that support the development of their startup ecosystems as they realize that looking to the future, it's a must. Some great examples are the entrepreneurship laws that are appearing in countries like Argentina, Chile, Mexico, Peru, and others.
Outsourcing in Latin America is on the rise
Many of these South American tech entrepreneurs aim to build software shops to service the US market, across a variety of technologies.
During Nexus 2017, Everest Group presented some of the most up-to-date numbers on outsourcing in Latin America. Here is a quick recap:

Among the key drivers for Latam growth, according to Everest Group, are the abundance of talent to support digital capabilities and attractive domestic markets for growth; two things that our US clients also find quite appealing when asking us to build their nearshore teams.
An untapped opportunity for Silicon Valley startups, still
For the past 10 years, we have built digital solutions (either web or mobile apps) from our offices in South America. Today, 90% of our clients are from the US. We typically have worked with corporations and mature consumer product companies, but over the past couple of years we have seen an increased demand from start-ups at the seed and VC stages, from all over the states. Fierce competition for good local talent and increasing costs are their main drivers to look after outsourcing solutions.
However, building and launching a successful tech product is an art. Therefore, it requires a mix of skills. Lean development, scrum practices, user experience, and product management are some of them. Fortunately, our clients have realized they can outsource all of them!
At UruIT we offer fully functional scrum teams, including UX and separate UI roles, Proxy Product Owner, and Scrum Masters, and of course, a senior team of engineers that work as a companion to the startup's CTO and Product Owners. We become a very agile technology arm. Therefore, we're capable of implementing a continuous delivery model with iterative releases, crafting solutions with the user in mind.
Latin America advantages
South America offers a cost-effective alternative for startups. That's because they all deal with aggressive go to market strategies and are desperate to gather early feedback from clients.
Clearly, our convenient timezone is ideal for agile development. Whether you are on the east or west coast, you can still grab a coffee and attend daily meetings, planning or review sessions. All of that using your preferred video conferencing tool during normal working hours. And, if a course change is needed you can do it almost in real time. There's no need to wait for the next day to implement it.
But more important, we feel, is the culture. At UruIT, we ignite a culture within our teams in Colombia and Uruguay based on caring about the product just much as any member of the client's team. It means they won't think twice to suggest a change if things aren't going well.
The potential of outsourcing in Latin America
Personally, my favorite Nexus 2017 panel was about Silicon Valley success stories. Many of which were stories of bonding between the local and nearshore teams. Latin Americans are very friendly and share the same work values as their counterparts in the US. We consume the same media, from TV shows to music, and are eager to create great things as well! Therefore, bonding is easier and productivity can consequently improve. Even more so with the small yet powerful act of having face-to-face meetings between the nearshore and the local teams.

We heard it many times at Nexus conference: South America has a strong value proposition for US product companies. As digital demands grow, so too will the industry grow here. But, it could grow even faster! That's if we could all work on raising the awareness and perception of the opportunities. They are just waiting to be tapped into on a grander scale.
ng-conf 2016
We were proud sponsors of this great event! If you're part of the Angular Community who attended the ng-conf 2016, along with the great sessions and workshops offered, don't forget to get in touch with us and let us know if you took home a gift bag. You'll find a cool present from us in it!
All the talks in the event were recorded. You can find them on YouTube!
Outsource2LAC 2015
Outsource2LAC, the main forum of outsourcing and offshoring in Latin America, took place in Guadalajara, Mexico November 2015 11th – 13th
Marcelo López, CEO and Co-founder of Uruit and Marcelo Martínez COO, joined the 3-day forum along with entrepreneurs and IT thought leaders from more than 600 companies from Latin America, United States, Europe and Asia.
The Outsource2LAC event's purpose was to provide participants with the opportunity to discuss emerging trends of the global services sector, how these trends will  have an important impact in  and identify business opportunities.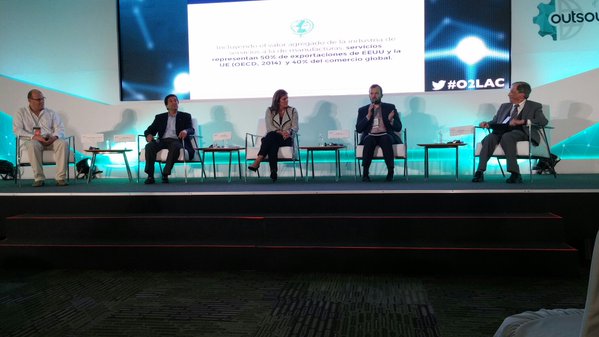 "At Uruit we want to contribute with the development and growth of the Latam IT exports. This is a great spot to exchange thoughts and experiences with our fellow partners. Also, to explore joint ventures" , said Marcelo López.
Latin America context
Latin American countries' service offering is growing in quantity and quality. That happens thanks to countries in the region that have been working to be skilled partners. Also, to companies that want to stay competitive, improving their talent pool and bilingual capabilities.
Uruguay is in line with these efforts and also counts with the support of projects like One Laptop Per Child and agencies like Smart Services, Uruguay XXI and ANII which promote and provide funds to research projects, international postgraduate scholarships and incentive programs to foster a culture of productivity and innovation.
Interested in outsourcing to Uruguay? Get in touch!
New York international outsourcing exhibition 2009
Uruit participated in an international outsourcing exhibition and fair that took place in New York City, USA.
Hundreds of executives from renowned companies and government representatives meet at the expo to discuss best practices and trends in the remote software development and outsourcing of processes, with different technology providers from around the globe looking to position themselves in the global market.
In addition to its services, Uruit presented the advantages of Uruguay as a privileged technological center and provider of skilled IT professionals, establishing links with U.S. companies and other providers in India, China, Eastern Europe, Brazil, Colombia, Chile and the United States, among others.
Uruit is a Microsoft Gold Partner with offices in Montevideo, Uruguay. It currently provides services to customers in Europe, America and the region.
Its focus is the development of business solutions and automating business processes with Microsoft technologies, primarily working with Sharepoint, .NET and Biztalk. It also supports other IT companies seeking to improve their management processes and development with Microsoft tools.