The past couple of years we've observed interesting key digital product trends, like digital transformation, advanced technology deployment, IT skills shortages, and outsourcing; some of them ignited by changing user needs and habits, and then accelerated by the pandemic. The result? Increased pressure on product management to push new product development and innovation forward and accelerate time to market. Customers want more and they want it now. Meanwhile, it's harder than ever to hire and to build in-house high-performing teams in a quick and cost-effective way, resulting in companies and Product C-levels missing out on opportunities. But the market doesn't care about excuses; it is about driving new revenue or finding yourself another gig.  
Thankfully, the march of technological progress carries on undefeated. Four trends are coming together which will allow senior marketers and product managers to boost their solutions' growth. 
These four digital product trends are intertwined and co-dependent, but need to be examined separately so each can be understood as the four legs of a magnificent, digital stool: strategic partnerships, new data challenges, AI, and no-code, all supporting the seat which is the Total Experience (TX) Paradigm.
Strategic Partnerships  
As an answer to the IT skills shortage, outsourcing has been a growing trend for companies that want to create an MVP, validate a market, or even scale or modernize an already successful digital solution. With a pandemic that accelerated an already existing trend of remote work, more and more product managers are finding digital product agencies to be great partners when working towards innovation and growth. 
Even better: in a world that is so well-connected, the possibility to work with people from around the globe is absolutely real and exciting. Getting rid of the in-house requirements means you get so much more talent to choose from, and sometimes you might even get a better value for your budget. 
Data-driven Product Development is Facing its First Challenges  
Data is no longer a differential – it's a necessity for intelligent development with a reduced margin of error. At the same time, we've witnessed greater awareness – and protection – of the value of personal user data. Techniques to avoid tracking and tracing, as well as the use of personal data, are being continuously improved. These data protection actions directly affect the quality of databases, hinder the collection of data, and make it difficult for companies to effectively use such data.   
Thus, to navigate these challenges, companies will move toward the use of "synthetic data" by building it through artificial intelligence. Synthetic data will allow companies to depersonalize data, support speed in creation and analysis, and avoid penalties for violating privacy rules.
AI and Automation 
The integration of AI continues to expand the product development horizon. Specifically, generative AI, which will allow us to use existing content such as text, audio files, or images, to create new forms of content and accelerate R&D cycles. 
Generative AI can be used for a variety of activities such as creating software code, facilitating drug development, and targeted marketing, but it can also be misused for scams, fraud, political disinformation, identity spoofing and more. 
By 2025, Gartner expects generative AI to account for 10% of all data produced, up from less than 1% today. This is how AI has the potential to be a game-changer within the organizational structure, signifying breakthroughs in research thanks to the power AI can provide to solve problems better, faster and at scale. It will also continue to become more useful as we shift the focus from applied analytics to conversational AI and deep inference. 
On the overall AI landscape, hyper-personalization is poised to take segmentation to the next level, improving engagement rates and ROI, delving into features that can be used to target consumers on an individual level.
No code 
The process of creating software is taking an important step on the road to simplification. New "no code" platforms are replacing programming languages with simple drag and drop interfaces, a good example of this kind of platforms is cogniflow, which story you can learn about in our free webinar. This simplification will have a major impact on the composition of teams, moving away from reliance on technical skills and bringing the focus to creativity and vision for strategy and product. The ability to build high quality products is within the reach of even small companies. 
This trend towards simplification is not just in terms of websites, but also in the ability to implement artificial intelligence, giving smaller companies the opportunity to benefit from AI, in terms of experimentation and improved operations. 
Access to data management and AI technology will also allow smaller companies to mature in terms of awareness of the possibilities of using these technologies, and experiment to leverage it. 
AI projects do not need a high return, as the cost decreases, thus allowing companies to focus on actions that generate gains in common areas such as sales funnel optimization or loss reduction, building models to generate leads that are more likely to buy. 
These tools can be used for things like detecting machine maintenance patterns and predicting which machines need maintenance before they fail. They are also sometimes used by marketing teams to detect customer dissatisfaction and reduce turnover, or by operations teams to reduce employee attrition. They can detect patterns in text, not just numbers, and can be used to analyze sales notes and transcripts along with sales history and marketing data, enabling companies to automate complex processes.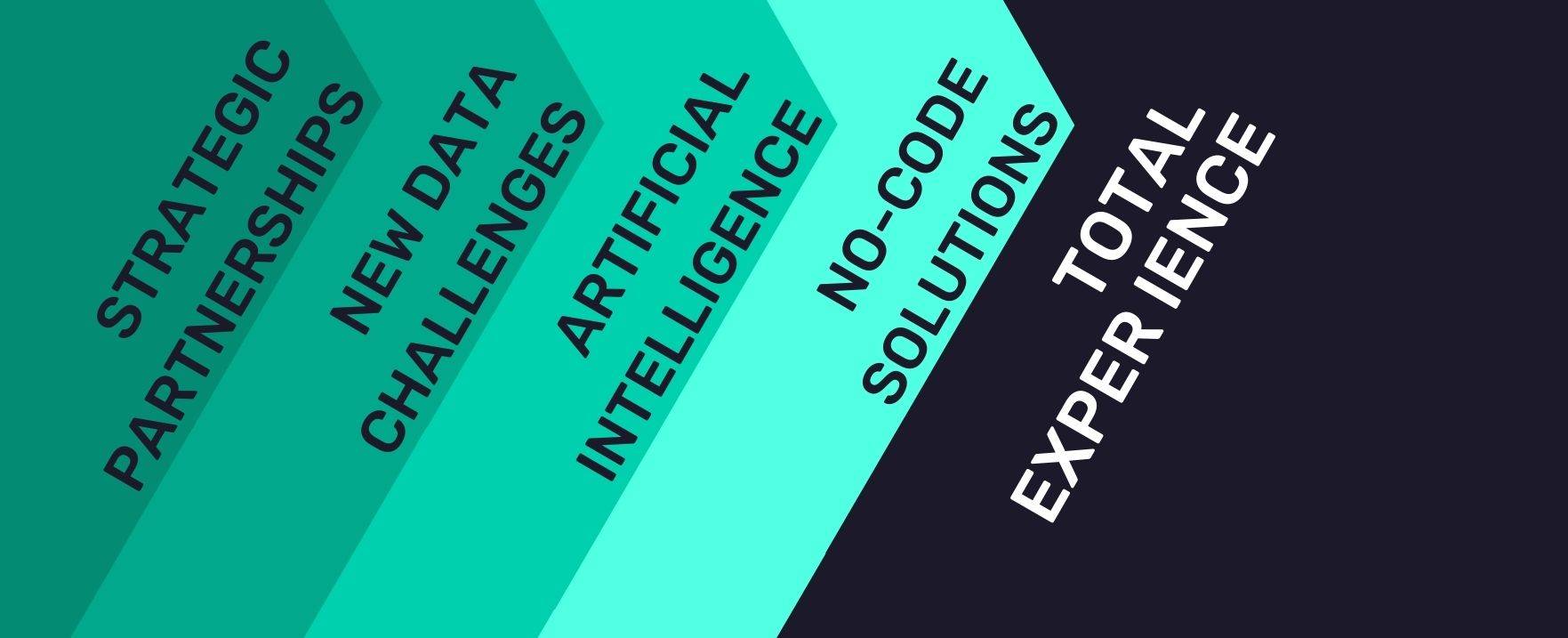 Total Experience (TX) with a Focus on Human Behavior 
The above four digital product trends are interwoven and ultimately feed into the Total Experience (TX) business strategy.  With a TX-focused approach, companies can drive greater customer and employee trust, satisfaction, loyalty and advocacy through end-to-end management of stakeholder experiences. 
TX also compels us to consider the application of behavioral intelligence and technology to analyze, understand and influence human behavior at scale. The idea is to tap into what motivates people to increase productivity. 
Together, these four elements, fed intravenously by petabytes and petabytes of data, will allow savvy product managers and marketers to fulfill their prime directives, which is to deliver, as if by magic, new services, products or experiences that their organizations can use to excavate new channels, new bays, and new waves of revenue.  
It's a given that smart companies have undergone or are attempting to undergo a digital transformation. That is no longer a competitive differentiator. The real differentiator is the company that can scale its innovative capacities through the use of enabling technologies such as no-code development and AI, allowing it to provide the immersive TX customers now demand. 
There will be no return to the era before the pandemic. It has scalded in the collective unconscious the precariousness of our social norms and our wealth, and has led not just to a flight from cities and a withdrawal from the traditional workforce, but to a wholesale reevaluation of relationships with brands, political structures, and the way we spend our time (with friends, family and colleagues).  
Economic winners will be those who are able to meet the expectations of their customers, employees and other stakeholders with alacrity.