Mobile Development: Redesigning UX/UI of a Telecom Mobile App
about
A positive outsourcing partnership with a telecom giant
Telefónica and UruIT have been partners for over five years, working mainly in the development of mobile and web applications that support the global telecom company's operations in Uruguay. Telefónica provides over 270 million mobile connections and 37 million telephone connections around the globe. Operating as Movistar in Uruguay, it is one of the largest telecom companies in the country, servicing over 1.5 million Uruguayans with telephone, internet and entertainment services.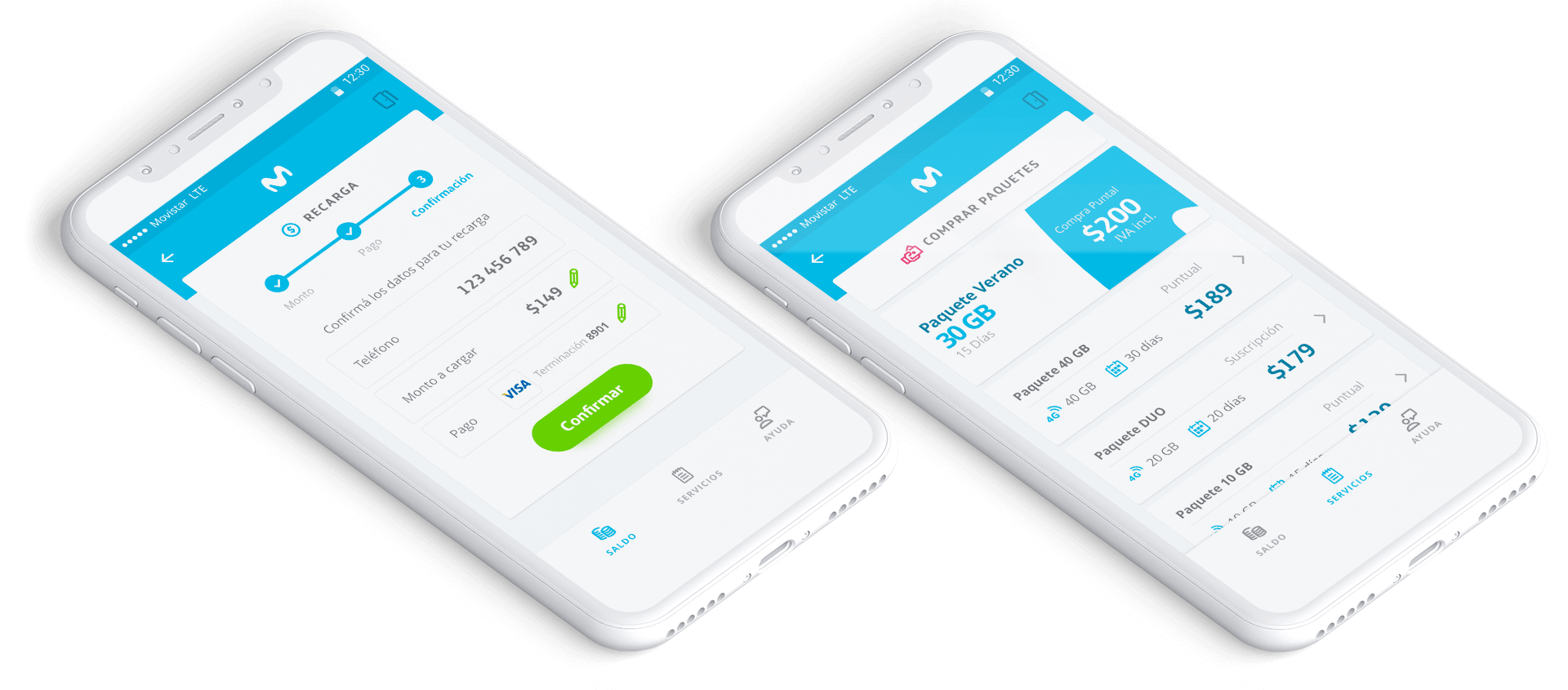 challenge
Improving Movistar mobile experience
In the beginning of 2018, Movistar reached out to us about the rewrite and general UX improvement of Mi Movistar, a mobile app available for its clients to manage their individual contracts (mobile phone plans). Some of the services available in Mi Movistar include online balance view, billing, package purchasing, and access to customer support, among others.
Movistar was looking to generate a better user experience, refresh interfaces in order to match the app's look with its branding, as well as set a roadmap for feature development. Mi Movistar was initially based on an app template for telecommunications companies. As a result, it lacked flexible scope and limited the ability to make changes. In addition to these restraints, Movistar wasn't able to meet deadlines and its target time to market.
solution
Mobile app based on cross-platform technology
Since we had previously worked together on other software development projects, Movistar returned to us with a keen appreciation of the Agile methodology and its flexibility to work more efficiently.
The main challenge for the design and development team assigned to this project was to change users' perceptions of the application. The previous software had some performance issues which negatively impacted users, as well as the app store reviews. To change the way people saw the app, we set the goal of creating an attractive and efficient system. We focused on UX/UI analysis and proposed a user-friendly design that displayed the brand with simplicity and high performance in mind. We tried out several user flows in prototypes built in InVision in order to generate feedback.
As we had a hard date for the updated app release, we made decisions and set the scope based on user data to map out and prioritize the features they use most.
results
A product that fulfill users needs
Today, the app has over 150,000 users who have expressed their satisfaction in the App and Google Play Stores with positive reviews and requests for new functionalities. In the coming months, we'll be adding features to Mi Movistar, while always taking into consideration the business needs and new services it creates.